Study finds calculations used to work out benefits of retrofit work overestimates energy savings achieved by up to 77%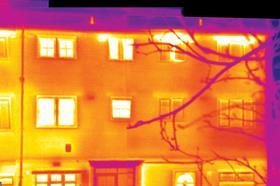 The system used to calculate energy savings under the Green Deal, which is critical to the flagship energy efficiency programme's success, is unreliable and inflates the savings a householder can expect to achieve from retrofit work to their home by as much as 77%, a study has found.
Social housing provider Affinity Sutton, which produced the study, monitored the effect of retrofit work carried out by contractor Keepmoat on 102 homes over the course of a year.
The data, analysed by consultants Verco, Baily Garner and Parity Projects, found that the SAP model, which is used to calculate building performance, on average predicted that tenants would save 77% more on their energy bills than they actually did.
The SAP model is central to the Green Deal assessment process and is used to ensure Green Deal packages meet the scheme's "golden rule", which states that measures must deliver more in energy savings than the cost of having them installed and financed.
But the report concluded that the "golden rule" calculation the Green Deal rests upon is "not entirely reliable".
However, it said that the occupancy assessment, which also forms part of the golden rule calculation, would have a "mitigating effect" on the unreliability of the energy savings predictions under the Green Deal. But methodology for the occupancy assessment had not been put in place when the study was conducted.
"This makes the Green Deal a lottery for our residents. A few may benefit, and even fewer may do even better than expected, but the majority are likely to lose out with energy savings less than the annual Green Deal payments," the report said.
It concluded that 61% of homes would make some sort of saving on their bills, but only one in four would save what was predicted through the SAP modelling.
However, the study also found that 73% of residents felt their homes were warmer after the works took place.
Jeremy Kape, director at Affinity Sutton, said the fact that the modelling was not reliable made the Green Deal particularly risky for low income households.
He said: "If [the modelling] is wrong, the impact on fuel-poor vulnerable households is more significant than those who have lower exposure to their fuel bills."
He said Affinity Sutton would not be using the Green Deal to fund retrofit, but instead would look to treat all its lofts and cavity walls and fund other measures through the Energy Company Obligation, which funds energy efficiency measures for low income and vulnerable households.
Sustainability expert David Strong said he feared it could result in accusation that the scheme was "misselling".
He pointed out that people's energy usage patterns tends to change when heating becomes cheaper or homes become warmer.
"If you are being strictly theoretical about it, SAP is not probably far out [on savings].
The problem is when these other human factors come in," he said.
The study also found that over half of properties experienced problems following retrofits many of which related to damp, ventilation, or residents not being able to work heating systems.
Kape said it was important that residents had extensive advice on how to use systems to avoid risks to health from damp homes. "It's about making sure they adapt [the lifestyle] in their own homes," he said.