Chief executive says joining forces with Dutch giant has led to £40m in contract wins so far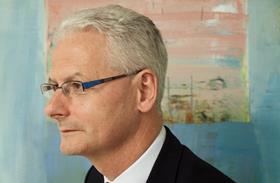 EC Harris is on target to hit 6-7% growth this financial year and is aiming for 12% growth next year, the firm's chief executive Philip Youell has disclosed.
In an interview with Building, Youell (pictured) said the firm's expansion is being driven by the consultant's takeover by Dutch giant Arcadis a year ago this month.
Arcadis is one of the world's fastest growing construction firms and is set to grow by a third to about £2.5bn turnover in the current financial year, partly fuelled by its acquisition of EC Harris and its April takeover of £79m-turnover Asia-based consultant Davis Langdon & Seah.
EC Harris has identified £40m of contract wins and £200m of potential new business that is "directly attributable" to the merger with Arcadis, Youell said.
Joint contract wins include a deal to project manage the expansion of Guarulhos Airport in Sao Paulo, Brazil, combining EC Harris' airport demand analysis and Arcadis' engineering skills.
Arcadis revealed in its third quarter results this month that EC Harris and Langdon & Seah contributed 26% of the firm's 34% growth over the period.
EC Harris will begin marketing itself as "EC Harris, an Arcadis company", from January next year, Youell said, while EC Harris and Arcadis will begin merging their operations in the UK and Europe from December.
In the UK, 450 Arcadis staff are being absorbed into EC Harris, with offices merging in Bristol, Exeter, Birmingham, Manchester, Leeds and London.
Tim Neal will lead the combined UK business, while a number of Arcadis staff will become partners of EC Harris, including Todd Bechtel as head of environment in the UK and Mark O'Brien, head of projects on location.
In Europe EC Harris staff are being absorbed into Arcadis, while in Asia EC Harris and Langdon & Seah will remain separate operating companies.
Youell said the restructuring will result in 20 support staff redundancies, with no reduction in technical staff numbers.
EC Harris is targeting growth in the US, Qatar, Saudi Arabia, South-east Asia and the London commercial and residential sectors, Youell added.
To read the full interview click here