Publication aims to drive BIM adoption by specialist contractors and makes business case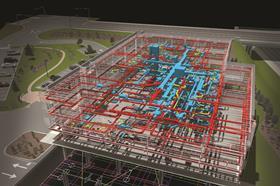 Two trade federations representing over 60,000 specialist contractors have published guidance for their members on how to adopt Building Information Modelling.
The guidance covers the opportunities and challenges for specialists adopting Building Information Modelling (BIM), as well as providing practical advice.
The move follows months of discussions between government and trade federations the Specialist Engineering Contractors' (SEC) Group and National Specialist Contractors Council (NSCC) on how to drive adoption in the sector, which has been seen to lag behind the rest of the industry in adopting BIM.
The discussions with the government were prompted by a critical briefing sent by SEC Group to the Cabinet Office last summer, detailing a catalogue of problems encountered by specialists using BIM.
As revealed by Building, these problems included increasing licence fee costs and poor adaptability between software packages, leading to high conversion costs.
The Cabinet Office, through the government's construction strategy, has mandated the use of BIM on all government projects by 2016.
Rudi Klein, chief executive of SEC Group, said the trade federations had been "working hard" with the Cabinet Office to address the problems raised in last summer's briefing.
He said: "We want to encourage firms to look at BIM, to understand what they are letting themselves in for and what the potential benefits are."
Klein said early supply chain involvement in BIM will be "critical" to its success and he encouraged the supply chain to work "much more collaboratively" with design teams on projects.
BIM is a collaborative design process that uses a single coherent system of computer models.
The guidance presents the business case for adopting BIM and provides advice on how to deal with various challenges, including legal and contractual issues and managing information exchange with main contractors on jobs. It also tries to demystify the jargon surrounding BIM.
The BIM guidance represents a rare collaboration between SEC Group and NSCC, which typically do not work together on initiatives.