RIBA labels Dame Judith Hackitt's report "a missed opportunity"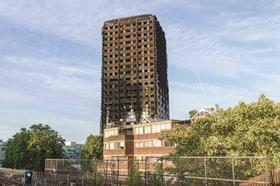 RIBA said that while Dame Judith Hackitt's report into fire safety regulations was thorough it offered no changes whatsoever to regulations or baseline guidance.
The architects' body said Hackitt's report was supposed to be a review of building regulations and fire safety following the tragedy at Grenfell Tower.
However RIBA president Ben Derbyshire said that focusing on just a small number of very high buildings was a major missed opportunity.
"By failing to ban the use of combustible materials and 'desktop' studies, or require use of sprinklers, the report's recommendations will not deliver the immediate change that is needed to reassure and safeguard the public.
"We will be continuing to work with government to ensure that our recommendations are re-considered."
Derbyshire said RIBA welcomed some of the review's findings, including the proposal to establish a Joint Competent Authority, bringing in the expertise of the Health & Safety Executive and the fire brigades, to oversee a new fire safety regulatory framework for multiple occupancy high-rise residential buildings.
"However, the Institute is concerned by the absence of the clear baseline standards that, it argues, would deliver clarity for the industry and, most importantly, provide protection for the public."
Edel Christie, UK managing director for buildings at Arcadis said the findings of the Hackitt Review pointed to multiple weaknesses in regulation, competence and allocation of responsibility on building projects.
"Industry's inability to assure and demonstrate that all parties, owners, constructors or operators have taken responsibility for their part in the process lies at the heart of the broken business model highlighted by the Grenfell tragedy. This has undermined confidence in the integrity and safety of buildings, and we need to rebuild this trust as quickly as possible."
The report's recommendations required both government and industry to maintain such momentum, Christie said. "Our sector needs to act quickly, focusing on how we change the way responsibility is divided on projects, working with the government and the supply chain to ensure that we all understand how we can properly fulfil our roles."
Build UK called on the construction industry to ensure buildings are fit for purpose and all those involved recognise their accountability, following publication of Hackitt's final report.
Build UK's chief executive Suzanne Nicol said it wasn't surprising to see Hackitt's report proposing radical change in how high rise residential buildings are designed, constructed and maintained.
"Containing a substantial number of recommendations, including new legislation, it is now up to the industry to adopt a much more rigorous approach to ensuring that designs, materials, systems and buildings are fit for purpose and that everyone is clear who is accountable at each stage of the process."
Peter Caplehorn, deputy chief executive of the Construction Products Association (CPA) and chair of the Review's Regulations and Guidance Working Group, said Hackitt's review "outlined the clear responsibilities necessary to ensure a disaster like this can never happen again.
"This is an important chance for the entire construction industry to show we are ready for an overhaul of how high-rise, high-risk buildings are designed and built, and ultimately how we are held to account. Any reforms which can provide greater clarity on how buildings meet safety requirements and the technical attributes of the products that go into them, are much needed.
"Furthermore, the recommendations' emphasis on creating a digital record of a construction project will go a long way to addressing the impact of product substitution and value engineering, quality of training and poor installations."
The Federation of Masterbuilders (FMB) described Hackitt's report as "a suitably serious response" to the Grenfell Tower tragedy, but while its focus was on high rise residential buildings the FMB urged that some of the review's recommendations be taken as a blueprint for the wider industry.
FMB chief executive Brian Berry said the industry needed to develop a comprehensive approach to competence. "There is an opportunity here for the whole industry to step up and ensure we have adequate levels of competence across the sector. Without this, significant parts of our industry will continue to be plagued by incompetent and unprofessional outfits."
"Furthermore, a comprehensive competency framework should be underpinned by a licensing system for all builders and contractors operating in the construction industry. This is the only way we will ensure that a baseline for competence is both recognised and complied with. The FMB has already started a conversation about how we can put this into practice and is engaging with other industry bodies to this end."
Hackitt's report highlighted the need for accountability across the industry, according to Chartered Institute of Housing chief executive Terrie Alafat. "The Hackitt Review rightly recommends a wholesale overhaul of the building regulations and fire safety system covering high-rise buildings. It is absolutely vital that we increase accountability for everyone involved in building and managing homes and make sure that residents have a stronger voice.
"It is now almost a year since the horrendous events at Grenfell Tower when 71 people lost their lives – we urge the government to consider the review's recommendations carefully and act on them swiftly.
"Everyone who works in housing must reflect on the recommendations and we will be doing everything we can to make sure that our members understand the changes coming their way so they can put them into practice quickly and effectively."
Hackitt was right to resist pressure for a complete ban on combustible building cladding, according to the Building Engineering Services Association (BESA). The BESA's chief executive David Frise said: "Dame Judith's team spotted right at the start that it was not the building regulations themselves, but how they were applied and enforced that allowed a culture to develop, which led to the Grenfell tragedy.
Banning cladding would not move that issue forward, he said, rather it was the way in which the refurbishment of the tower was managed and delivered, as a whole, that should face scrutiny.
Frise went on: "We need output-based regulations reinforced by financial and criminal penalties that far outweigh any benefits you might gain from cutting corners. The cladding might have been the weak point in this particular project, but we need a system that flags up all potential threats."
Nick Baveystock, director general of the Institution of Civil Engineers (ICE), said it was important that the construction industry "continues to strive to ensure the highest levels of competence, working coherently to improve the governance of the development, management and operation of assets.
"We welcome and support the recommendation for a clear model of risk ownership, which is a similar approach to the Construction (Design and Management) Regulations 2015 already adopted in construction. These regulations have been crucial in strengthening health and safety within the industry, by giving clearer accountability to professionals and clients, which is then reflected in training, development and contracts.
"The proposed introduction of an overarching body to provide oversight of competence requirements will play an integral role in ensuring the robustness of continuing professional development across all disciplines. The effectiveness of these regulations will rely heavily on the ability of industry to work together on their implementation, and ICE will fully support this.
"The new regulatory framework, as overseen by the Joint Competent Authority, will be key to ensuring the ongoing success of these changes. While the local authorities continue to have an important role to play, the introduction of a role for the Health and Safety Executive and fire and safety authorities will be critical in ensuring independence, quality and consistency is maintained through the regulatory system."
Mark Varley, head of health and safety at property management firm FirstPort, welcomed the report's tackling of responsibility concerning the design, construction and management of buildings. "The changes will help us take more of a 'whole-building' approach to safety once the baton of responsibility is handed over to us by developers and freeholders.
"In the future building owners and managing agents will need to adopt a more complete approach to information to replace the piecemeal approach that still exists in some cases. We need to be sure that the buildings we manage are true to the blueprints we work from. That's why the so-called 'golden thread' is important – design intent and subsequent changes must be properly recorded to allow us to do our job effectively."
Tom Roche, a senior consultant at insurers FM Global, said that while the Hackitt Review had provided a degree of clarity over who was responsible for what and when, it was "disappointing not to see a direct call for current technical guidelines to be reviewed.
"Instead, it looks like the government will be pushing more responsibility onto industry to ensure building safety. Pushing responsibility onto industry without issuing updated technical guidance is likely to create further confusion for building owners who are typically looking to government guidelines and building standards to make sure they are compliant."
Roche also took issue with Hackitt's reluctance to call for a ban on combustible materials, which he said pushed the responsibility onto industry to trace and test materials. "Without any bans in place, it's even more imperative that the government takes responsibility for updating technical guidance for the industry to use.
"Hackitt's report focuses heavily on high rise residential buildings. No doubt this is an important area post Grenfell. However, Grenfell exposed multiple failings across the UK's fire safety systems that were not just specific to high rise buildings. When it comes to fire safety, we need the same level of rigour to be applied to all buildings, including homes, schools, hospitals and workplaces, many of which are low rise buildings."
Labour London Assembly housing spokesperson Tom Copley said that nearly a year on from the tragedy of Grenfell it was "extremely disappointing to see the Hackitt review fall completely short of any reasonable expectations". Copley said it was "outrageous that there has not been a resolute call to ban dangerous flammable cladding from any future developments.
"What we have seen from the review is sentimentality and no substance, and the safety of thousands of Londoners continues to be put at stake."
Ben Jayes, managing director of Birmingham-based cladding supplier Vivalda said he had expected Hackitt's report to recommend a ban on any combustible material on tall buildings. "We had also hoped to see sharper teeth when it came to independent building inspection, however this appeared to have been overlooked in favour of tighter regulations outlined in the report.
"While it is encouraging to see that the role of 'dutyholders' within the planning, design and construction phase of building projects is given weight, I can't help feeling let down by the final review. We were expecting something stronger."
National Association of Professional Inspectors and Testers (NAPIT) chief executive Mike Andrews welcomed the Hackitt report's support for the self-certification model.
"We go further than the recommendations suggested by Dame Judith by requiring that all operatives, rather than just a qualifying supervisor, are assessed as competent in the registration process. We welcome the creation of a Joint Competent Authority to ensure that work done in higher risk properties reaches the desired standards."
Andrews also backed the suggestion that bodies which accredit competence should themselves be accredited. "Schemes which are accredited by the United Kingdom Accreditation Service require installers to be competent and to be regularly assessed to demonstrate their ongoing competence. This approach is currently in use by all Competent Person Schemes, including those run by NAPIT."
Dan Daly, the London Fire Brigade's assistant commissioner for Fire Safety, welcomed the inclusion of fire and rescue services within a new Joint Competent Authority, which would have a key role during consultation in the design, construction and refurbishment of buildings. Daly said the move was a "step change which would allow fire services to contribute fire safety expertise during all the key stages of a building's life".
Addressing a cladding ban Daly said: "We understand why many would want materials such as ACM cladding banned but the brigade agrees with Dame Judith Hackitt's conclusion this would not help safety in the long term. It's more important that the review concentrates on appropriate testing regimes for building materials, tighter regulations and ensuring that competent people are making decisions about building safety.
"Context is as important as raw materials when it comes to making buildings safe. For example, a type of material used in a low rise office block could be safe but dangerous if used in a high rise block."
More to follow…