Engineer Halcrow's final accounts before it was taken over by US giant reveal extent of its financial woes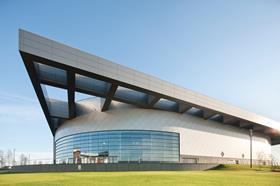 Engineer Halcrow reported a pre-tax loss of £71m in its last year of independent trading before it was taken over by US giant CH2M Hill, it emerged this week.
Halcrow Group's accounts for the year to 31 December 2011 show the firm's pre-tax profit plummeted from £17m in 2010 to a £71m loss in 2011.
The accounts reveal the depth of Halcrow's financial woes at the time of the acquisition, which also included a huge pension deficit of nearly £177m and a 28% fall in revenue over the year.
In September 2011, the firm announced that it was being bought by US engineering and project management firm
CH2M Hill. Only now, with the publication of the 2011 accounts - six months after they were due - has it become clear how much financial difficulty the firm was experiencing.
In the accounts the firm reported a £92m fall in turnover from £331m in 2010 to £238m in 2011. Its turnover in the UK, Ireland and Europe fell 11%from £229m to £204m over the period. In addition, its revenue in the Middle East collapsed, falling 80% to just £16m in 2011.
The firm's business in the Americas, and Asian and Australasian markets also saw revenue decline 18% and 8% respectively, though these were smaller markets for the company.
Redundancy costs contributed to the firm's financial problems as it racked up costs of £2.1m while it shed 1,240 staff in 2011, with average staff numbers falling from 4,617 in 2010 to 3,377 in 2011.
There were also £3.2m in costs associated with the sale of the group to CH2M Hill.
Writing in the accounts Geoffrey Roberts, Halcrow secretary, said 2011 had been a "disappointing" year for the firm and "the effects of the global recession continued to impact results".
Speaking about the UK market he said: "Delays in commencement of projects were experienced and the state of the economy maintained uncertainty about government spending on engineering consultancy." He added that levels of work being won in the Middle East had also declined and the firm had had to reduce costs to mitigate the fall in workload.
The accounts revealed that CH2M Hill's financial backing has been crucial to Halcrow's financial health. The US firm agreed a secured loan to the company in December 2012 and the firm's accountant, Ian Griffiths, senior auditor at KPMG, said that the firm was "dependent" on CH2M Hill's support. He added that this cast "significant" doubt on the firm's ability to "continue as a going concern" were this to be withdrawn.
Halcrow reported net liabilities of £177m in 2011, a fall from net assets totalling £25m in 2010. This fall was driven by the growth in the deficit of its pension fund from £65m in 2010 to £180m in 2011.
Halcrow turnover by region