Mott MacDonald report found safety risk was "acceptably low" after temporary fix to prevent cracking
Hammersmith Bridge will reopen to pedestrians, cyclists and river traffic this weekend after a series of safety investigations by Mott MacDonald.
The 19th century bridge has been closed to pedestrians and cyclists on public safety grounds since August last year after it was found to be at risk of a catastrophic collapse.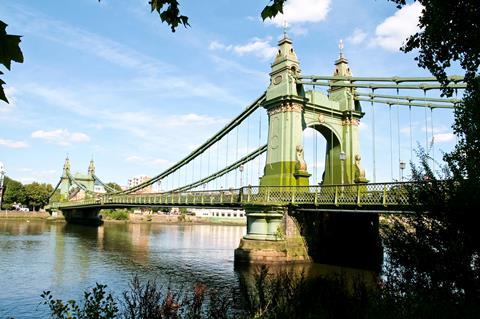 The 11-month closure, which was ordered after cracks which had been discovered in the cast iron pedestals widened during a heatwave, has caused major disruption to traffic both crossing the river and passing beneath the grade II-listed bridge.
A temperature control system has now been installed to prevent further cracking on the bridge's anchor chains.
Acoustic sensors have also been installed to issue alerts on further crack movements, with a Mott MacDonald report concluding that the safety risk is now "acceptably low".
But the report warned that these measures were only intended to be a temporary fix and the bridge would need to close again unless a permanent solution was found.
It added: "Without a funded plan for repair the limited current use must cease eventually. It is not acceptable in managing safety risk to rely upon interim measures indefinitely."
The announcement of the reopening was made by Hammersmith & Fulham council leader Stephen Cowan during a meeting with engineers at the bridge alongside the leader of Richmond council, Gareth Roberts.
Cowan said that Hammersmith and Fulham council was "moving at full speed" to draw up a plan for the full repair of the bridge that would allow cars and buses to use it.
The council is weighing up a plan suggested by Foster & Partners and bridge engineers Cowi to build a temporary truss over the existing decking, allowing road traffic to cross the river while sections of the bridge are removed and taken downstream by barge to be repaired offsite.
The £100m proposal could cut £40m from the repair bill, the council said.
But it warned that it was looking at introducing a toll scheme to fund the works on the bridge, which it said was one of the most expensive in Britain to repair.
The bridge has been closed to road traffic since April 2019, following a structural integrity review which revealed seven decades of unchecked corrosion.