Developer looking at cutting back amount of retail at north London site
Developer Hammerson has confirmed it is reviewing its plans for its £1.4bn Brent Cross Shopping Centre extension, following its decision to put the scheme on hold earlier this year.
Robin Dobson, director of retail development at Hammerson, told Building that the landlord, owner of an £11bn commercial property portfolio, remained "fully committed" to the scheme, despite the decision to put it on hold in July citing "turbulence in the UK retail markets".
However, he said Hammerson was looking at the balance between different uses in the 90,000-sq m scheme in the light of the struggling retail market. Dobson said: "With the changes in the retail market, we're reviewing how our plans need to change. This includes the weighting to retail as opposed to other uses."
Asked if that meant Hammerson was considering bringing in additional residential units or office uses into its plans for the first time, Dobson said: "We shouldn't be limited in our outlook of how complementary mixes can act as a catalyst for additional retail footfall or the other metrics that are important for our occupiers."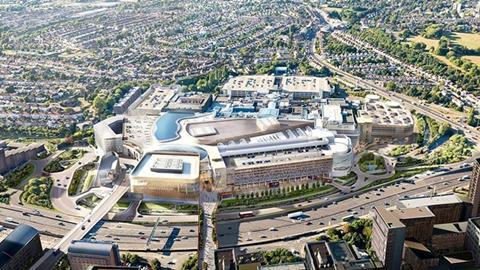 Hammerson had previously contracted Laing O'Rourke and Hochtief Graham to build out the scheme, which is designed to double the size of the existing North London shopping centre. Hammerson had previously said the scheme would start on site in the second half of this year.
The admission follows turmoil on the high street in 2018, with Patisserie Valerie last week becoming the latest high street name to get in to financial difficulty, after Toys R Us and House of Fraser both fell in to administration.
Dobson added that Hammerson's giant Croydon development in partnership with Westfield was not going to start imminently. "There are a number of other stages, not least progressing the detailed design work. It's positive but complicated. There's a long journey to take a project like this to site."
He said the retail turbulence meant large traditional shopping centre developments are likely to be "few and far between" in future.