Chancellor's first spring statement includes £29m for construction skills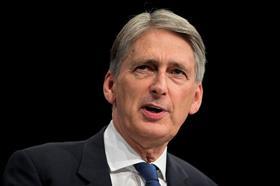 The government has agreed a deal with the West Midlands to build 215,000 homes over the next 12 years, chancellor Philip Hammond announced in his spring statement earlier today.
The region will commit to building 215,000 homes by 2031, supported by a £100m grant from the Land Remediation Fund.
London is to receive an additional £1.67bn in funding to start building a further 27,000 affordable homes by 2022.
In addition, the Housing Growth Partnership will more than double, meaning £220m will be available to help provide financial support for small housebuilders.
The Chancellor said that 44 authorities, including the West Midlands, have bid into the £4.1bn Housing Infrastructure Fund, with further announcements from housing minister Dominic Raab due in the coming days.
The chancellor also announced that there will be a review of how late payments can be avoided following Carillion's collapse in January.
The government is also set to bring forward business rates revaluation by a year to 2021, with further reviews set in three-yearly periods.
Hammond also gave updates on funding for improving transport infrastructure across England, with government now inviting proposals from cities for the £840m fund announced last November.
In a further attempt to boost skills within the sector, a £29m construction skills fund will also open for bids next month, along with £80m in funding to help small firms take on apprentices across industry and £50m to be made available to help employers prepare for the rollout of T-Level work placements.
The chancellor's first spring statement – a stripped-back version of the spring budget, which has been replaced by a single, bumper autumn budget in November – included an update on fiscal performance and updated growth forecasts over the next five years.
The Office for Budget Responsibility's growth forecast for 2018 was revised to 1.5%, up from 1.4% in last November's budget.
Growth forecasts remained unchanged for 2019 and 2020 at 1.3% for both years but forecasts for 2021 and 2022 were revised down to 1.4% and 1.5% respectively, down from 1.5% and 1.6% respectively last November.