Group's chief says green heating systems are 'fraught with difficulties'
Replacing gas boilers with heat pumps will not work because they are too large, noisy and do not produce enough heat, the chief executive of the Federation of Master Builders has said.
Heat pumps are expected to be a core part of the government's plan to decarbonise buildings, but Brian Berry said that they "won't deliver given the current technology".
The green heating systems, which work by absorbing heat from the air, would need to be widely adopted in homes following the government's proposed ban on sales of new gas boilers from 2035.
But ministers have admitted that it will be a struggle persuading homeowners to install them because they can cost up to £35,000 each, can emit noise which breaches legal limits and cause significant disruption during installation.
The systems also take longer to heat up than gas boilers and require added kit, including new piping and water tanks.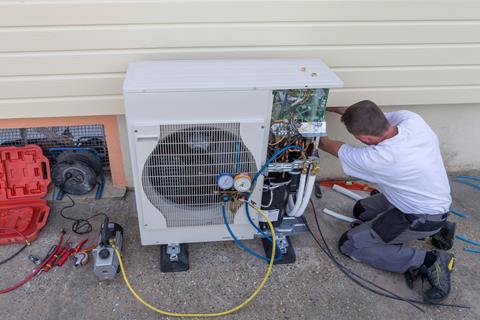 Berry said that the government's emphasis on greener heating systems was "fraught with difficulties" and that it should focus on reducing heat loss from buildings with insulation instead.
"The technology needs to advance to make heat pumps quieter, smaller and more efficient, and that takes time.
"The solution I think is to concentrate on the fabric and then let the heating technology catch up."
The Federation of Master Builders has proposed a 20-year programme to retrofit the UK's 28 million homes, which Berry said would provide a huge stimulus to the construction industry.
But he added that public opposition to heat pumps could "undermine the whole retrofit approach".
The comments came amid an ongoing delay to the government's heat and building strategy, which will set out ways in which buildings will be decarbonised as part of the goal for the UK to reach net zero emissions by 2050.
Media reports last month said ministers now expect the strategy, which was first promised in early 2021, will be published no earlier than September.
It is believed government talks have been stuck over how subsidies to incentivise people to buy heat pumps will be funded amid fears tax hikes will lead to a backlash from voters.
Berry said it was unhelpful for the industry that the government had still not provided a direction of travel and admitted the silence from ministers is "concerning".
He added that ministers had been "tight-lipped" about whether they will take on board the proposals for a nationwide retrofit strategy.
Berry, who also leads the Construction Leadership Council's repair, maintenance and improvement industry workstream, said that there "appears to be a blockage right at the heart of government about the strategy for improving homes".
Last month, the UK's net zero champion, MP Andrew Griffith, insisted that he expects the strategy to be published within "weeks".
Speaking at a Building webinar, he said: "One person's delay is another person's chance to get it right. We don't want false starts and missteps."
It is widely expected that the strategy will be published no later than November, when the UK will host the COP26 climate change conference.