Scheme in partnership with Grainger would have seen 196 new homes built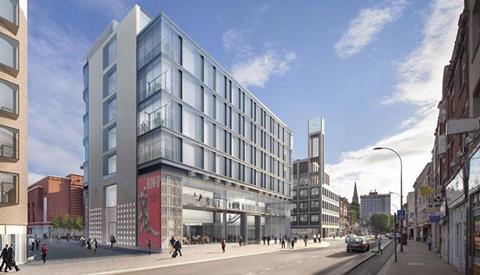 Developer Helical has confirmed that Hammersmith & Fulham council has terminated its development agreement with the firm and its partner Grainger for a regeneration project at King Street in the London borough.
The mixed-use scheme (pictured), which was granted planning permission in 2013, would have seen 196 apartments, a three-screen cinema, retail, restaurant and café space and replacement offices built for the local council.
Helical said Hammersmith & Fulham council "have been opposed to this regeneration project since the council became Labour controlled" and exercised its right to terminate the agreement.
The firm added that it and Grainger were now in discussions with the council over the sale of the land.
But Helical does expect to start on site next spring with a consented 89,000ft2 office building over the new Crossrail station at Farringdon, with completion due in the fourth quarter of 2019.
The firm, which also owns four properties in Manchester, is planning a full refurbishment and extension of one of them, Trinity Court, once the building becomes vacant next year to provide 55,672ft2 of office space in early 2019.
Reporting its financial results for the first half of its current financial year for the six months ended September, Helical saw pre-tax profit plummet by 96% to £1.2m from £31m for the same period last year.
Operating profit fell 75% to £10.6m from £42.1m, while revenue was down 37% to £33.2m from £52.4m last year.
Helical chief executive Gerald Kaye said that since April 2016, the firm had sold over £315m of investment assets, including the recent sale of its office building near Old Street tube station for £74m and its retirement village portfolio for £102m as part of its ongoing divestment of non-core assets.