New HS2 chair David Higgins lays out challenge to industry and calls for political consensus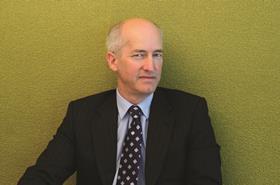 The incoming chair of HS2, Sir David Higgins, has said as he will challenge contractors to build the £43bn line more quickly when he takes up the post in January next year.
Higgins, currently chief executive of Network Rail and the former chief executive of the Olympic Delivery Authority, was unveiled as HS2 chair yesterday, with incumbent Doug Oakervee announcing he will step down.
Higgins told the BBC's Radio 4 Today programme this morning that he did not understand why it needed to take so long to build the high-speed line to the north of England.
Under current plans, the first section of the line form London to Birmingham is due to complete in 2025, with the later sections to the north not to be completed for a decade after that.
Higgins declined to put a date on when it could be built by, but he said: "The key to this, as it was with the Olympics, is planning. We need to do things at the start.
"One thing I don't understand, admittedly I haven't been through it in detail, is why it needs to take so long and time is money. We have some of the world's best designers and best contractors, we should challenge them to plan properly and then challenge them to do it quicker."
Higgins also said that securing political consensus would be vital to ensuring the project went ahead, and that he was due to meet shadow chancellor Ed Balls in the next few weeks to discuss the project.
Balls put the project into doubt this week at the Labour Party conference by saying a future Labour government would look at whether there were better ways to spend the money.
Higgins said: "With the Olympics the crucial thing was that it was bipartisan. I did meet the chancellor [George Osborne] and I said this has to be bipartisan. You can't have this as a political football, it's too important for the nation."
Higgins said that with growth rates on the railway outstripping all predictions the line was a vital piece of UK infrastructure. "The UK has the oldest rail network in Europe. The idea that we are still sitting with this existing railway in 40 years time is for me very difficult to comprehend."
Higgins added that the project was essential to the economic future of northern cities: "Well, my background is regeneration, of course and then the Olympics and regeneration is central to transport, so I think HS2 will be a massive catalyst as it has been in the Thames Gateway.
"The reason that Stratford works so well now is that it's got nine railway lines, transport is the centre to all forms of major regeneration."
Higgins' appointment was welcomed by transport secretary Patrick McLoughlin. He said: ""The appointment of Sir David Higgins to replace Doug Oakervee ensures that we will continue to have leaders at the heart of HS2 who have a track record of delivery. His experience at both Network Rail and as Chief Executive of the Olympic Delivery Authority – where he oversaw construction of the magnificent Olympic Park - will be essential to ensure we deliver HS2 on time and on budget."