Firm hit by increased costs on Queensferry Crossing scheme
Galliford Try became the second major contractor in as many days to announce a review of its business with the firm saying it is now running the rule over its £1.7bn construction arm.
New chief executive Graham Prothero told the City this morning that the firm has now begun to look at slimming down the size of its construction operation.
Cenkos analyst Kevin Cammack said he expected the business to be shrunk by as much as 40% and added: "My guess would be that Galliford downsizes to a base revenue line of c£1bn per annum which would be capable of a 2% margin."
The business remained firmly in the red last year, although it narrowed losses in 2018 to £29m from £89m the year before
Its construction operation has been blighted in recent years by a number of problem contracts – notably its job to build a bypass around Aberdeen and another project in Scotland, the Queensferry Crossing bridge scheme near Edinburgh.
The Queensferry Crossing, which it carried out for Transport Scotland with a team that included Dragados and Hochtief, was finished seven months late after being hit by delays caused by high winds which it had to pick up the tab for.
The firm said full year profits in the 12 months to the end of June 2019 would now be hit by up to £40m. Analysts had been forecasting pre-tax profit of £156m for the current year end.
The review is due to complete in the next few weeks and the firm said it would announces its findings on 21 May.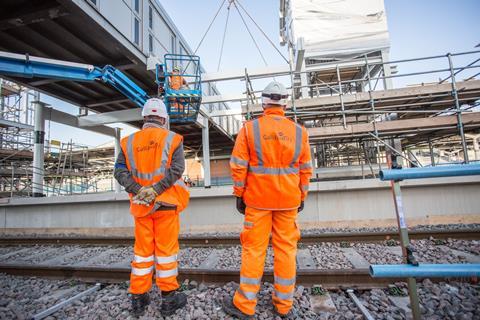 In a statement, Galliford Try said: "The review will reduce the size of the Construction business, focusing on its key strengths in markets and sectors with sustainable prospects for profitability and growth, where we have a track record of success."
Galliford Try added "The Board anticipates that this review will result in reduced profitability in the current year reflecting a reassessment of positions in legacy and some current contracts and the effect of some recent adverse settlements, as well as the costs of the restructure. The single largest element relates to the Queensferry Crossing joint venture, which has recently increased its estimated final costs on the project."
It said its claim covering the completed Aberdeen Western Peripheral Route, another Transport Scotland job, and a £38m work in progress balance in respect of three contracts for a single client was unchanged.
The Queensferry and Aberdeen schemes marked a turning point for Galliford Try with the firm's head of construction Bill Hocking, who joined after the deals were signed, telling Building last year: "We will not do mega, lump sum fixed-price jobs anymore."
Prothero became Galliford Try chief executive last month, taking over from Peter Truscott who joins housebuilder Crest Nicholson this September.
His decision to review part of his business comes 24 hours after his counterpart at Kier, Andrew Davies, announced a review of that business as well on his first day in the job.