Exclusive: EDF confirms timetable has slipped further than previously expected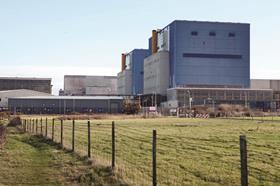 The construction of EDF Energy's new nuclear power plant at Hinkley Point in Somerset is now a year behind its original schedule.
A revised timetable of work submitted to the Planning Inspectorate to support EDF's application for permission to build the plant reveals that onsite construction work is now not due to start until 2014.
In October last year EDF predicted that onsite construction work would start at the beginning of 2013. Since then the firm has had to carry out extensive remediation work to the soil after asbestos was found at the site, delaying the start of major earthworks by five months.
In an answer to questions from the Planning Inspectorate last week EDF said: "The timescales for large scale developments are generally not capable of being fixed with certainty at the planning stage.
"Some flexibility is needed in the construction programme and in the construction methodology, whilst some design details are necessarily reserved for subsequent approval. Hinkley Point C is no exception," it added.
The revised timetable does include a revised date for its planning application decision, which has been pushed back to March 2013 from late 2012.
Last month the energy firm awarded a consortium of Laing O'Rourke and Bouygues the £2bn main civil works package but in its response to the Planning Inspectorate it said that it did not anticipate letting any further contracts on the project for "many months or years".
The first of the two planned reactors at the site will now not be ready until the beginning of 2020 with the second coming online in the middle of 2021, a year after it was planned.
However, associated offsite work to build accommodation for workers, improve local transport links and build logistical facilities are mostly only six months behind the original schedule.
The news comes as it has emerged that two consortiums are in the running to buy rival nuclear power venture Horizon, which was put up for sale by German power firms RWE Npower and E.ON in March.
The Financial Times reported that reactor maker Toshiba Westinghouse is partnered with China's State Nuclear Power Technology Corporation and US Power firm Exelon while French reactor manufacturer Areva is bidding with China Guangdong Nuclear Power Corp and other unidentified investors.