Malaysian owners of iconic building secure finance package, with search for contractors for phase three to begin soon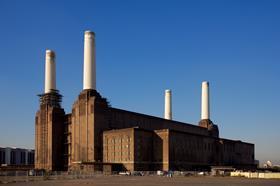 The Malaysian owners of London's Battersea Power Station have secured a £1.35bn funding package to kick start development of the second and third phases of the project.
Joint developers Sime Darby and SP Setia secured the syndicated debt facility from banks CIMB, Maybank and Standard Chartered Bank.
The deal - one of the largest real estate financing transactions in recent years - will fund the £750m redevelopment of the power station itself into a mammoth mixed-use scheme, and the £600m development of the third residential-led phase, designed by Gehry Partners and Foster + Partners.
Skanska was confirmed as phase two contractor this week, as first revealed by Building last month, and will mobilise on the project from Monday (3 November), before starting construction next March.
Battersea Power Station Development Company (BPSDC) confirmed this week it had begun "talking to the market about the right approach" for procuring a contractor for phase three, with the tender process expected to begin in "a few months", to secure a contractor for a September 2015 start.
The signing ceremony took place in the art deco Control Room A of Battersea Power Station (pictured, below).
Tan Sri Liew Kee Sin, chairman of Battersea Power Station, told reporters: "This deal shows the confidence of the banks in Battersea - to raise this amount at this time is impressive. I think today is a glorious day."
Kee Sin said Sime Darby and SP Setia are not currently looking for further schemes to add to their UK development pipelines, but said they would "embark on a new adventure once they start seeing a return [from Battersea]."
The project's backers now embark on a "global tour" of 13 cities around the world to generate interest from potential residents and commercial occupiers, taking in London, Kuala Lumpur, New York, Los Angeles, Milan, Paris, Dubai, Doha, Shanghai, Beijing, Hong Kong, Tokyo and Singapore.
Kee Sin said interest in the project overseas was "vast". "Everybody wants to get involved," he added.
The first 529 flats of phase three go on sale from Friday. Kee Sin said he expected "two thirds" of phase three flats to be bought by "locals", with the other third bought by overseas buyers.