Materials will reflect landmark's industrial past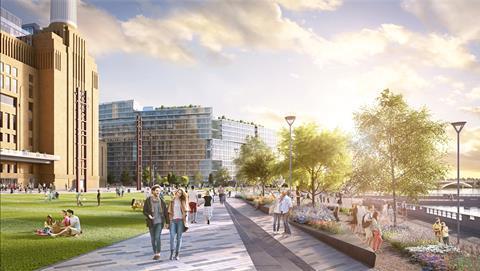 LDA Design has unveiled new images of a 2.5ha park it is designing at Battersea Power Station.
It will contain a riverside footpath and cycleway, terraced river gardens and two large event lawns flanking a north-south central axis which will allow the park to hold events.
There are also two belvedere spaces at each end of the park giving views over the river.
The park won planning earlier this year and is due to open in phases from 2017.
LDA Design, which is involved in the first three phases of the development, has developed a site-wide palette of materials which is intended to reflect the scale, materiality and industrial heritage of the grade II* power station.
Large pieces of timber, Corten steel and black concrete seats – a nod to the coal that once fuelled the building – will contrast with softer materials and the herbaceous borders.
LDA Design director Robert Aspland said: "The park will play a critical part in place-making, bringing the site to life, serving as a key backdrop for the iconic power station, and hosting everything from weekly markets that are known round the world and outdoor cinema screenings, to more informal picnics and lazy Sunday afternoons."
The site has already played host to temporary events including a pop-up cinema.
Source
This story first appeared on Building Design