Housing agency commits £74m to enable next phase of the Kent housing development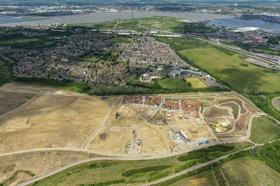 Homes England has completed a £74m deal to enable the next phase of development at Ebbsfleet Garden City in Kent.
The cash will fund a range of infrastructure works – including filling in a lake – to prepare the land for the development of more than 5,000 new homes.
More than 650 acres of land will be used to build up to 5,290 new homes – accounting for around a third of the total Ebbsfleet Garden City housing development – as well as around 180,000 sq ft of commercial development.
Homes England supported the enabling works through a loan deal to Henley Camland include preparing land for the development of housing on both the Castle Hill (pictured) site and the Eastern Quarry at Ebbsfleet.
Henley Camland has simultaneously agreed land deals for 2,900 homes to be developed on the site, 2,600 of which will be delivered by Countryside Properties and Clarion Housing Group in a new joint venture.
Barratt Homes will also build 300 homes on this part of site.
The £73.97m loan is being made through the Home Building Fund (HBF).
More than 1,000 of these new homes at Ebbsfleet will be provided by 2021, with the full scheme due to be completed over the next decade.
The HBF loan will also mean other services to support the housing development, such as a new secondary school, will be delivered earlier than previously thought.