Watford? Newcastle? Arsenal? AN Other? Those fixtures in the running to be club's inaugural match at new stadium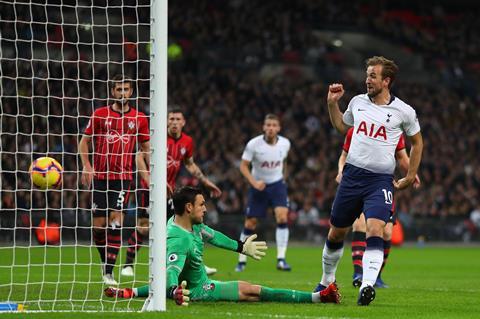 Updated 14 January
Tottenham has confirmed that its upcoming matches against Watford, Newcastle United, Leicester City and Borussia Dortmund will all be played at Wembley Stadium.
In an update to fans, the club has cited building control sign-offs and the requirement to schedule in building test dates as the reason for the continued delay.
The next competitive fixture yet to be officially moved from Tottenham's delayed stadium to Wembley is its Premier League match against bitter north-London rivals Arsenal.
But with the club again declining to put an opening date on the new ground, below is a list of potential opponents for the first competitive fixture at the new ground.
Number of games originally scheduled to be played at Tottenham Stadium, but moved to Wembley:
19
(three Champions League group stage fixtures, one Champions League knock-out match, two League Cup matches (played in Milton Keynes and at Wembley) and 13 Premier League home fixtures up to and including Leicester City on 9 February 2019 - number includes Tottenham's home match against Fulham on 18 August, which was originally arranged to be played at Wembley before the start of this season)
Maximum number of games that could be played at Tottenham Stadium this season:
9
(six Premer League games, as well as two potential Champions League knockout matches and one potential FA Cup quarter final match)
Tottenham's fixture list for the remainder of the 2018/19 season
Date
Competition
Opposition
Stadium
20 January 2019
Premier League
Fulham
Away
24 January 2019
League Cup semi-final second leg
Chelsea
Away
Weekend of 26 January
FA Cup fourth round
Crystal Palace
Away
30 January 2019
Premier League
Watford
Wembley (confirmed)
2 February 2019
Premier League
Newcastle United
Wembley (confirmed)
w/c 4 February 2019
Potential FA Cup fourth round replay
TBC
Wembley (confirmed)
9 February 2019
Premier League
Leicester City
Wembley (confirmed)
13 February 2019
Champions League last 16 first leg
Borussia Dortmund
Wembley (confirmed)
Weekend of 16 February
Potential FA Cup fifth round
TBC
Home/Away (Wembley if it's a home draw confirmed)
23 February 2019
Premier League
Burnley
Away
27 February 2019
Premier League
Chelsea
Away
2 March 2019
Premier League
Arsenal
Currently scheduled for Tottenham Stadium - TBC
5 March 2019
Champions League last 16 second leg
Borussia Dortmund
Away
9 March 2019
Premier League
Southampton
Away
16 March 2019
Premier League
Crystal Palace
Currently scheduled for Tottenham Stadium - TBC
Weekend of 16 March
Potential FA Cup quarter final - home fixture with
Crystal Palace would move to a later date
TBC
Home/Away
30 March 2019
Premier League
Liverpool
Away
6 April 2019
Premier League
Brighton and Hove Albion
Currently scheduled for Tottenham Stadium - TBC
Weekend of 6 April
Potential FA Cup semi final - home fixture with
Brighton would move to a later date
TBC
Neutral venue
9/10 April 2019
Potential Champions League quarter final first leg
TBC
Home/Away
13 April 2019
Premier League
Huddersfield Town
Currently scheduled for Tottenham Stadium - TBC
16/17 April 2019
Potential Champions League quarter final second leg
TBC
Home/Away
20 April 2019
Premier League
Manchester City
Away
27 April 2019
Premier League
West Ham United
Currently scheduled for Tottenham Stadium - TBC
30 April/1 May 2019
Potential Champions League semi final first leg
TBC
Home/Away
4 May 2019
Premier League
Bournemouth
Away
7/8 May 2019
Potential Champions League semi final second leg
TBC
Home/Away
12 May 2019
Premier League
Everton
Currently scheduled for Tottenham Stadium - TBC
Games moved from Tottenham's new stadium this season (so far…)

| Date | Competition | Opposition | Stadium | Score (Tottenham score first) |
| --- | --- | --- | --- | --- |
| 18 August 2018 | Premier League | Fulham | Wembley | 3-1 |
| 15 September 2018 | Premier League | Liverpool | Wembley | 1-2 |
| 26 September 2018 | League Cup | Watford | Stadium MK, Milton Keynes | 2-2 (4-2 on penalties) |
| 3 October 2018 | Champions League | Barcelona | Wembley | 2-4 |
| 06 October 2018 | Premier League | Cardiff City | Wembley | 1-0 |
| 29 October 2018 | Premier League | Manchester City | Wembley | 0-1 |
| 6 November 2018 | Champions League | PSV Eindhoven | Wembley | 2-1 |
| 24 November 2018 | Premier League | Chelsea | Wembley | 3-1 |
| 28 November 2018 | Champions League | Inter Milan | Wembley | 1-0 |
| 5 December 2018 | Premier League | Southampton | Wembley | 3-1 |
| 15 December 2018 | Premier League | Burnley | Wembley | 1-0 |
| 26 December 2018 | Premier League | Bournemouth | Wembley | 5-0 |
| 29 December 2018 | Premier League | Wolverhampton Wanderers | Wembley | 1-3 |
| 8 January 2019 | League Cup | Chelsea | Wembley | 1-0 |
| 13 January 2019 | Premier League | Manchester United | Wembley | 0-1 |