Kit Malthouse said the government is expecting test results by the summer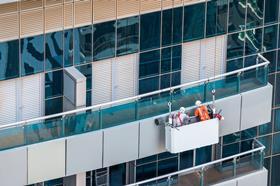 More towers may need remediation, with housing minister Kit Malthouse revealing that the government had ordered testing of other materials which may need to be removed from apartment blocks under the combustible cladding ban.
Speaking in the House of Commons yesterday (23 January), Malthouse said the government had begun providing guidance on investigating non-ACM cladding systems last year.
He said: "In December 2018, we issued updated advice to building owners about how to investigate non-ACM cladding systems on their buildings, and how to remediate them.
"In addition, we have commissioned the Building Research Establishment to conduct a testing programme on non-ACM materials, and we expect the first test results by the summer.
"We have also issued specific advice on other fire safety risks, for example, spandrel panels and external wall insulation."
Malthouse said the remediation of ACM cladding had been an initial priority because the government's large-scale testing programme had shown it posed a particularly high risk.
Meanwhile, Labour MP Jim Fitzpatrick flagged that there were 42 tower blocks that still have ACM cladding where the "freeholder is saying that leaseholders have to pay for remedial works".
Malthouse said the government remained concerned about leaseholders who found themselves in "this difficult situation through no fault of their own".
He said: "We have made it clear that we expect building owners in the private sector to protect leaseholders from the costs of remediation, either by funding it themselves, or by looking to alternative routes such as insurance claims, warranties or legal action."
Malthouse said a growing list of companies had agreed to fund remediation, singling out Barratt Developments, which agreed to fund remediation at the Citiscape development in Croydon last April.
He said Barratt had started work on site this week.