But Mark Thurston tells Tory MP he is working to the original budget and timeline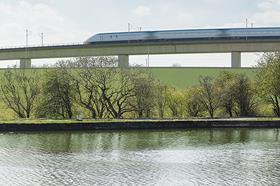 HS2 chief executive Mark Thurston has suggested a trio of measures to cut costs and save time on the £56bn train line despite insisting his corporation is working to the original cost and scope.
Thurston said trains could come less frequently, ballast track could be used instead of the proposed slab track and, as Building first reported last month, that the max train speeds could be reduced by 50km/h.
His suggestions were made at the All-Party Parliamentary Rail Group on 20 November and revealed by Conservative MP Andrea Leadsom, who published correspondence between herself and Thurston on her website last week.
The project was originally set to cost £32.7bn, but has already gone up by over 70%.
Leadsom, whose South Northamptonshire constituency will be affected by the scheme, said: "Changes to the project could undermine the business case, negatively affect the benefit-cost ratio, and reduce the value for taxpayers' money."
But in a letter to Leadsom dated 4 January, Thurston said: "I responded to direct questions from members [of parliament] about what could be done to change scope in an effort to reduce cost.
"However, I was also clear that HS2 is working to the scope and budget of the project which the government has set, and for which detailed debate in parliament has taken place."
HS2 declined to comment further on the possible changes.
The details emerge as a Costain-Skanska JV, working with McGee, has thrown up the project's first tower crane in preparation for demolition of One Euston Square and Grant Thornton House at Euston, London.
Last week prime minister Theresa May was forced to defend the project as fellow Conservative MP Dame Cheryl Gillian told her the project was "deeply unpopular" and its "costs are out of control".
And back in September transport secretary Chris Grayling was lambasted by the transport committee chair following reports that his department was delaying a bill needed for the second section of HS2 – its extension to the north – by a year.