Council asks We Made That to come up with plan for area around station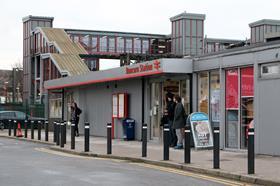 A council in north-west England has appointed an architect working on the HS2 station at Euston to come up with a masterplan to revamp the area around Runcorn station under proposals to take advantage of improved rail links in the area.
Halton borough council has asked We Made That to draw up plans to redevelop the area around the town's station (pictured).
A council spokesperson said: "Runcorn's mainline station is an important asset for Halton, providing fast, frequent services to London and Birmingham, and it is a popular and convenient commuter station into Liverpool.
"Increased speeds on the West Coast Mainline resulting from the HS2 project, will further increase passenger numbers, so it is important that the station's setting is similarly improved."
Others working on the plan include transport and movement specialist Steer Davies Gleave.
Public realm specialist We Made That was added to the Euston design team earlier this month which is headed by Grimshaw and Arup. Others working on the £1.65bn station include LDA Design, Publica and Haptic Architects.
Three joint venture teams – Costain/Skanska, Mace/Dragados and Bam Nuttall/Ferrovial – are chasing the main construction works with a winner due later this year.