Supplies continue to flow to £100bn scheme, Andrew Stephenson adds
The man in charge of HS2 has said he is not worried about the materials shortages currently gripping other parts of the industry affecting progress on the £100bn scheme.
With Travis Perkins the latest to warn about the impact of supplies running out, HS2 minister Andrew Stephenson said the project was not suffering from the same issues as other schemes.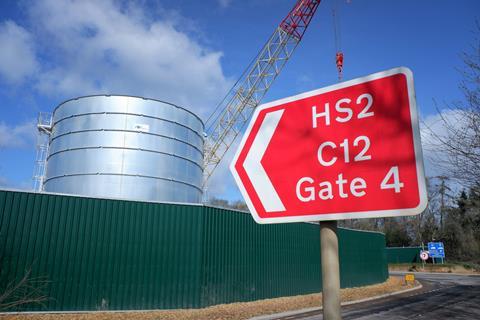 He told MPs: "Our latest assessments do not currently predict an impact on [HS2's] cost and schedule ranges published [earlier this year]."
He added that other big clients such as Network Rail were not being hit either.
Construction leaders have raised concerns that major projects could soon be caught up in materials shortages which have so far mainly affected smaller schemes and residential jobs.
Construction Products Association chief executive Peter Caplehorn and John Newcomb, chief of the Builders Merchants Federation, who are the co-chairs of the Construction Leadership Council's product availability group, warned larger jobs would soon be hit.
Travis Perkins chief operating officer Frank Elkins predicted that cement shortages were unlikely to ease before the end of the year, calling the current situation "unprecedented".
In a written reply to a question from Labour MP Tanmanjeet Singh Dhesi, Stephenson said HS2 was making sure it "procures responsibly and minimises any potential impact on the wider availability of skills and materials across the UK".
Interested in materials?
Join us today for a day-long event on materials being delivered as part of our buildings, design and specification programme.
The day includes two free sessions on materials, that you can register for now or watch back on demand.
The day, which is being run in conjunction with our sister titles Building Design and Housing Today, will also include a live blog providing expert insights, updates on the live panel sessions and analysis of the key topics.