Transport minister asks HS2 and Network Rail to consider bolstering trans-Pennine route alongside phase 2 of HS2, in wake of Higgins report into project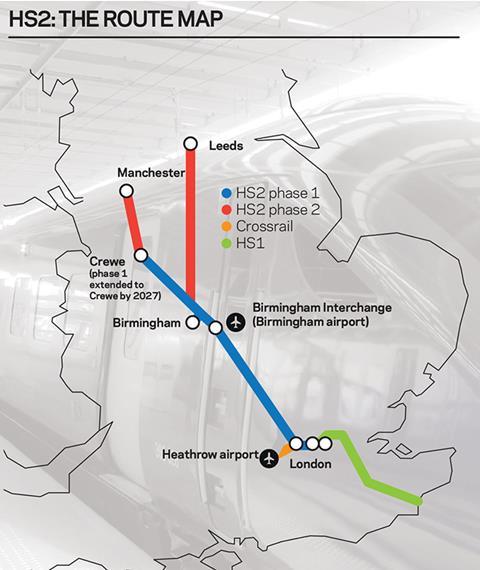 HS2 and Network Rail have been tasked with drawing up plans to improve east-west rail links in the north of England before the end of the year, in the wake of Sir David Higgins' report into the north-south high-speed line.
One of Higgins' key recommendations in his report, published this week, was that the construction of the second phase of HS2 - a "Y" from Birmingham to both Manchester and Leeds (see map, above right) - be considered alongside further improvements to trans-Pennine connections linking Liverpool, Manchester, Leeds and Hull.
Responding to Higgins' report, transport secretary Patrick McLoughlin said he had asked both HS2 Ltd and Network Rail to make recommendations for changes to the existing network before the government responds to the current consultation on the Y phase of HS2.
The government is expected to respond before the end of the year.
The move is a bid to respond to critics of HS2, who have said that improving north-south connections will simply boost the London economy, and that northern cities would benefit more from greater connections to each other.
Higgins' report in effect calls for both to be prioritised.
Speaking to Building, Higgins rejected the idea that developing better east-west links could add both time and cost to the project, saying there was time in the parliamentary timetable, and that the costs would be covered by re-prioritising plans for the £20bn of Network Rail enhancements planned between 2019 and 2029.
He said: "The legislation is not going to be put into parliament for phase two until 2017 anyway - so they'll have to start preparing the documentation from mid-2015.
"We have basically a year between now and the start of the documentation of the 'Y' [phase two of the line] to get that right.
"Is it going to be more money? We know money's going to be spent on the existing network anyway … I'm just saying tie those things together, because you are going to spend the money anyway – but where? And make sure they complement each other."
Leader of Manchester council Sir Richard Leese endorsed Higgins' plan, while admitting much work needed to be done to cost further improvement to trans-Pennine connections.
He said: "A lot of people of limited ambition have been saying that instead of HS2 we should be spending more on east-west connections. I would say very strongly it's not an either/or - you need to do both that and HS2, and do it in an integrated way."
Despite recent work on east-west links in the North, including the ongoing electrification of the Leeds-Manchester line, northern cities say further improvements are needed to remove bottlenecks and add more rolling stock.
Leese said: "I don't think anyone knows the full cost of these projects. So that's a challenge for us, those of us in the north need to cost them and scope them."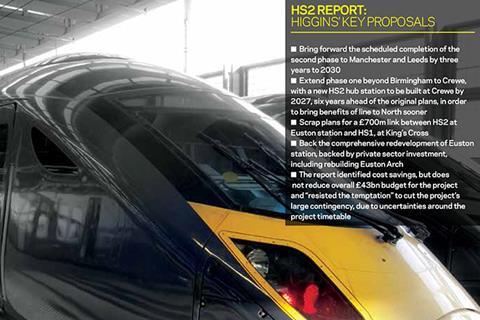 Government backs key proposals to speed up £43bn HS2 project
The government has backed a series of proposals by HS2 chair Sir David Higgins to speed up the construction and reduce the cost of the £43bn HS2 rail line.
Transport secretary Patrick McLoughlin backed Higgins' proposal, outlined in his report on HS2 published this week, to ditch plans for a £700m link at Euston between HS2 and HS1 – the high-speed rail line from King's Cross to the Channel tunnel – and supported the major redevelopment of
Euston station, including the rebuilding of the demolished Euston Arch.
McLoughlin also commissioned Network Rail and HS2 Ltd to "make recommendations" for Higgins' central proposal - to bring forward by three years to 2030 the timescale for the completion of the second phase of HS2 linking Birmingham, Manchester and Leeds.
The government also backed Higgins' call for phase one of the line to be extended beyond Birmingham to Crewe, with a new HS2 hub station to be built at Crewe by 2027 - six years ahead of schedule, in a bid to bring benefits of the line to the north of England earlier than initially planned.
McLoughlin said the HS2 to HS1 link was being dropped due to its high impact on "freight, passengers and the community of Camden" and provision for the link will be removed from the High Speed Rail Bill.
Although the recommendations are expected to reduce the cost of HS2, Higgins did not recommend any overall cuts to the budget, saying that any savings should be retained as contingency.