Deals for Euston and Old Oak Common were due to be awarded by the end of last year
The long-awaited appointment of contractors to build the HS2 stations at Euston and Old Oak Common has officially been pushed back.
The announcement of which firms would be the construction partners on the £56bn scheme's two London stations was originally due to be made by the end of 2018.
But the latest update to HS2's current contract opportunities table, has revealed that this date has been pushed back to quarter one 2019.
This means the appointments at both Euston (pictured) and Old Oak Common could be delayed by up to three months.
At Euston, early works contractor, joint venture team Costain and Skanska, is working with demolition firm McGee to carry out works at the site which includes knocking down One Euston Square and Grant Thornton House which stand above the main entrance to the station.
The buildings were designed by Tower 42 architect Richard Seifert in the mid 1970s and are expected to take 10 months to knock down.
An HS2 spokesperson said: "We are working closely with government to complete the contract award process for both station construction partners and we will announce the winners early this year."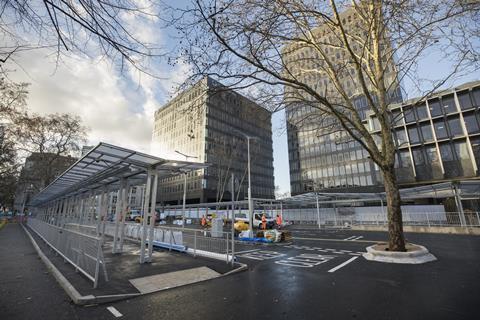 The latest update also revealed that the design and build contract for the construction of Birmingham's main Curzon Street station is due to be awarded in the second quarter of next year.
A shortlist for the £435m job is expected to be announced in May, according to the contract notice for the job, which was published last November.
The northern early works contractor, a joint venture between Laing O'Rourke and J Murphy, is already working at the site.
Earlier this week, it emerged HS2 chief executive Mark Thurston suggested a trio of measures to cut costs and save time on the project despite insisting his corporation is working to the original cost and scope.
Thurston said trains could come less frequently, ballast track could be used instead of the proposed slab track and, as Building first reported last month, that the max train speeds could be reduced by 50km/h.
The project was originally set to cost £32.7bn but has already gone up by over 70%.
Shortlists for HS2's London stations
Euston
Bam Nuttall, Ferrrovial and Fluor
Mace and Dragados
Costain and Skanska
Old Oak Common
Balfour Beatty, Vinci and Systra
Bam Nuttall, Ferrrovial and Fluor
Mace and Dragados
Bechtel