Project spokesperson says reports are 'completely misleading'
HS2 has hit back at reports that the cost of the £106bn railway has risen again by nearly £1bn since March, with a spokesman for the project calling the claims "completely wrong and misleading".
The Financial Times reported that sources close to the project had said that overall costs on the £44.6bn first phase of the line between London and Birmingham had gone up by a further £800m because of the impact of the pandemic.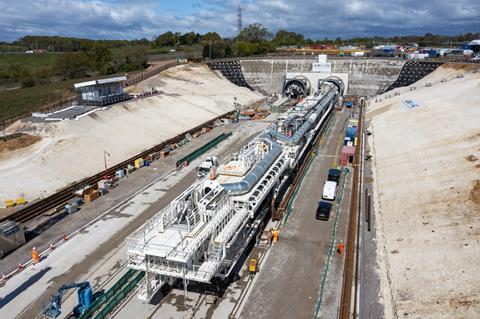 It would mean that the total cost of HS2 had risen by a total of £1.7bn over the past year following the project's announcement last October that it would be forced to shell out an extra £800m on asbestos remediation works at its Euston station terminus.
The figure includes £100m added to the cost of the Solihull Interchange station, which went out to tender earlier this month.
But an HS2 spokesperson said that the project does "not recognise" the figures and that financial assessments on the response to covid-19 had not been made.
He added that any additional costs would be covered in a £5.6bn contingency fund included in the £40bn target cost for phase 1 set aside to manage risks and uncertainties which arise during construction. The overall budget of the London to Birmingham leg also includes a £4.3bn government contingency fund.
The spokesperson said: "It would be completely wrong and misleading to say the project has requested extra funds or there is any increase on the overall budget."
A DfT spokesperson said: "Our focus remains on controlling costs on HS2 to ensure this ambitious new railway delivers its wealth of benefits at value for money for the taxpayer.
"The response to covid-19 remains ongoing and final assessments of its effect have not been finalised."
The railway has also refuted that there have been price rises on the £370m Solihull Interchange station, which was originally budgeted at £270m when HS2's notice to proceed was granted in March 2020.
The spokesperson said the original cost of the station had been based on 2019 prices and "excluded risk contingency and scope".
But he did not deny that further funds had been allocated from either HS2's contingency or the government contingency since the project's latest six-monthly report in March, telling Building that any further significant cost rises would be confirmed in the next report.
Meanwhile, the project has been given the green light to create 127 hectares of new grasslands using chalk excavated from the line's Chiltern tunnels.
The 'Colne Valley Western Slopes' project will see one of the project's construction sites converted into one of the largest areas of chalk grasslands in the Chiltern hills.