The 700-tonne bridge-building machine will install 1,000 unique bridge segments across two miles
The installation of the UK's longest railway viaduct began today with the launch of a 700-tonne bridge-building machine.
The Colne Valley Viaduct, which will stretch for 3.4km once complete, will eventually carry high speed trains across a series of lakes and waterways between Hillingdon and the M25 as part of the planned HS2 line.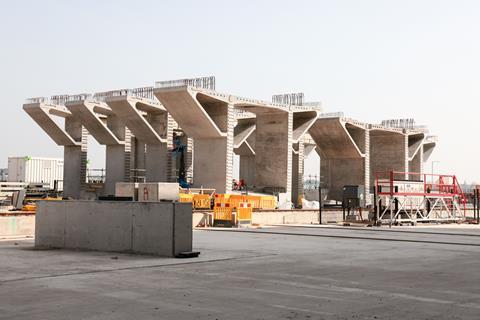 HS2 has announced that its 160m-long launching girder – the only one of its kind in the UK – will begin lifting the precast concrete deck segments that form the viaduct's arch structure into position.
After the completion of each section, the machine moves itself forward into position to build the subsequent section.
>> How Align JV is building the UK's longest rail bridge, one piece at a time
The completed structure will be composed of 1,000 deck segments, each weighing up to 140 tonnes.
Every single segment of the viaduct is a different shape, to account for the curve of the viaduct as it crosses the valley.
The viaduct project is led by HS2's main works contractor Align JV – a team made up of Bouygues Travaux Publics, Sir Robert McAlpine and VolkerFitzpatrick.
The girder is named Dominique, in memory of Bouygues engineer Dominique Droniou, who played a leading role in its design. It was originally built in 2004 and has previously been used to build Hong Kong's East Tsing Yi Viaduct.