Body contradicts London mayor by saying existing capacity should be better used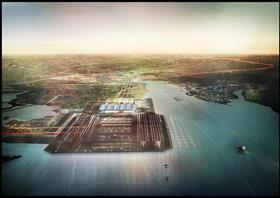 The London Assembly has questioned mayor Boris Johnson's drive for a hub airport East of London to be built, saying there was a huge amount of unused airport capacity in the capital.
A report from the Assembly's Transport Committee called on Lord Davies' Airport Commission, set up to decide whether to go ahead with construction of a new hub airport, needed to look hard at whether better use could be made of existing airport capacity.
It found that two smaller London airports, Stansted and Luton, had respectively 47% and 51% of runway slots available, and that even Heathrow, running at 99% runway capacity, could accommodate more passengers by switching to larger aircraft.
Caroline Pidgeon, chair of the London Assembly's Transport Committee, said that using existing capacity in a smarter way "may be" the most cost-effective solution in the short term. She said: "Evidence we received shows that the Airport Commission must examine whether better use of existing airport capacity could be an intelligent cost-effective alternative to building new airports or runways.
In addition the report said that the existing airports predominantly served local areas, raising further questions of whether a new airport in a different location was desirable. Pidgeon added: "The need for additional hub capacity is also under debate, with strong data showing rather than runway capacity limiting airlines ability to fly to emerging markets, it could be low passenger demand from each airport's geographical area."
The report said 127 million people used London airports in 2010, with two thirds of those coming from the London and the south east of England. Despite raising questions over the need for new hub airport capacity, Pidgeon backed the mayor's stance on blocking further expansion of Heathrow. She said: "We also hope that any plans to expand Heathrow can soon be laid to rest.
"Currently London sees 130 million passengers traveling through our airports each year. The challenge for the government and decision-makers is to find the best way to support the UK's economy globally while ensuring Londoners are not adversely affected by worsening noise and air pollution from planes flying over the capital. In the short term."