Exclusive: Arrests at subcontractor Alandale as police probe focuses on Laing O'Rourke and Costain's £250m Farringdon station upgrade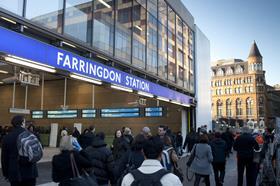 A construction fraud probe that has seen the arrest of four individuals is centred on Laing O'Rourke and Costain's £250m upgrade of London's Farringdon station for Network Rail, Building can reveal.
As Building reported yesterday, British Transport Police (BTP) have arrested four people in connection with a fraud inquiry over alleged corruption in the procurement of rail construction contracts in London.
Network Rail has now confirmed to Building that the inquiry is centred on its high-profile £250m upgrade of Farringdon Station for Thameslink, with the investigation leading to the arrest of senior figures at London-based subcontractor Alandale Group.
Alandale Group, which reported revenue of £42m last year, is a preferred supplier to the Costain and Laing O'Rourke joint venture that is leading the redevelopment of Farringdon station for Network Rail.
Despite repeated attempts since last Friday (5 April) to contact the directors of Alandale Group, the firm has said there is no one available to comment on the allegations.
Alandale Group, which has a construction and logistics arms as well as a rail division, is a supplier to Network Rail and the London Underground.
A Network Rail spokesperson said no Network Rail employees had been arrested in the inquiry, but added: "We will be reviewing our relationship with Alandale in light of these allegations".
Both Costain and Laing O'Rourke declined to say if any employees of their joint venture had been arrested in the police probe, or if they would review their relationship with their subcontractor Alandale while the police inquiry continued.
Laing O'Rourke and Costain said: "This inquiry is being carried out by the British Transport Police and, therefore, this is a matter for the British Transport Police to comment on."
The BTP confirmed it arrested three people on 28 February and a further individual on the 6 March in connection with the fraud inquiry.
A BTP spokeswoman said all four individuals were released on bail and had not been charged. She said the inquiry was continuing.
Alandale Group has worked on a number of high profile projects, including the London 2012 Olympic velodrome and the Olympic broadcasting and media centres, as well as the £920m Paradise Street development in Liverpool.
In its results for the year to 30 June 2012, Alandale Group chairman Perry Morgan said the firm's rail division had "performed particularly well since its launch in 2010 and has now reversed past losses".
"The management continues to be pleased with the progress and remain optimistic of sustained growth and turnover in the coming years," Morgan said.