Former Treasury minister Andrea Leadsom to take on development of next generation of nuclear power plants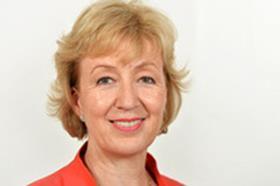 Industry leaders have praised the appointment of Andrea Leadsom as energy minister, following David Cameron's Cabinet reshuffle.
Leadsom's appointment at the Department for Energy and Climate Change (DECC) – alongside energy secretary Amber Rudd – was unveiled by Cameron last week, but it was only on Monday that the department could confirm her responsibilities.
She will be in charge of electricity and gas markets, new energy infrastructure, new nuclear power plants, oil and gas policy (including shale gas), energy security, carbon capture and storage and the Nuclear Decommissioning Authority.
Her portfolio responsibilities make Leadsom a key minister for the construction industry, with oversight of the next generation of nuclear power plants including EDF's Hinkley and Horizon's Wylfa, and the policies underpinning billions of pounds worth of spend on wind, solar and tidal power developments.
Leadsom was previously economic secretary to the Treasury and a member of the Treasury Select Committee. She has been MP for South Northamptonshire since the 2010 general election. Before entering politics Leadsom worked in investment banking for 25 years.
Industry leaders welcomed Leadsom's appointment. Alasdair Reisner, chief executive at the Civil Engineers Contractors' Association, said her experience in the Treasury could prove particularly important. He added: "She's clearly got quite an important role in terms of energy infrastructure, and there's got to be significant investment in energy infrastructure if we are [to avoid] the much-vaunted 'lights go out' [scenario] in the UK."
Keith Parker, chief executive at the Nuclear Industry Association (NIA), said: "She will play a pivotal role in delivering new nuclear facilities to the UK."
Leadsom formed eurosceptic group the Fresh Start Project with Conservative MPs, Chris Heaton-Harris and George Eustice, in 2011. The group doesn't call for the UK to leave the EU but seeks to examine options for a new relationship.
Leadsom had stepped down from the group in 2014 after being appointed a Treasury minister.