Ecobuild latest: The construction industry needs to employ more gentle tactics when lobbying government, says political guru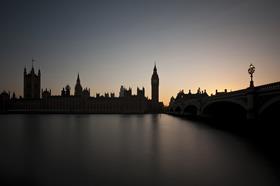 The construction industry needs to employ more gentle tactics when lobbying government on green issues, a former government special advisor has said.
Speaking at Ecobuild, Paul Hackett, director of the think tank The Smith Institute and former special advisor to John Prescott, said environmental issues were viewed "sceptically" in Whitehall and the industry need to "tread carefully" to build public and political consensus on initiatives to increase the energy efficiency of existing buildings.
He said: "We are treading on egg shells politically.""
Hackett added: "Few of the ministers in Whitehall believe in their hearts they are going to meet the targets they have set themselves and I also think few of them believe the Green Deal will deliver anything like what they hoped it would."
Speaking to Building, he said industry needed to focus on "shaping public opinion" rather than lobbying politicians.
He said: "Bold comments don't play so well down the Westminster village. There is some consensus but it's not a big consensus and it doesn't involve the big names.
"A lot of the MPs and councillors who understand this agenda don't want to frighten off the voters."
Hackett said the industry needed to work more closely with local authorities and charities to increase the roll-out of energy efficiency retrofits.
Hackett was speaking at a session discussing the merits of forcing homeowners to upgrade their homes to minimum standard of energy performance. From 2018 landlord will not be able to rent properties with an energy performance certificate rating of F or G, some industry leaders argue homeowners should be given the same requirements and forced to upgrade inefficient properties before being able to sell them.
David Hall, campaign director at The Big Energy Idea, said a minimum standard for all homes would be a positive step but that it would not stimulate as many energy efficiency retrofits are required for the government to meet its carbon emissions reduction targets.
He said: "The lesson from the Green Deal is that no one measure is a silver bullet."
But Adam McTavish, director of sustainability at consultant Sweett Group, argued that while the policy seemed desirable at first glance there were many complications that made it unworkable.
"Even minimum standards are not sufficient for us to achieve our 2050 targets. If they have made an investment to improve the performance of their home in 2015 are they going to want to go back and do that again 5 years later?"