Skanska had been lined up for the job which had its funding pulled last month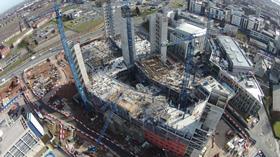 Sandwell and West Birmingham Hospitals NHS Trust has launched a search for an interim contractor to restart work on the Midland Metropolitan hospital site for the first time since Carillion collapsed in January.
Skanska had been in line to takeover from Carillion, with the trust's chief executive Toby Lewis confirming in April that the contractor was the preferred bidder.
That deal now appears to have been scrapped as the trust seeks to explore whether the hospital could be completed using a new PF2 contract.
Carillion originally won the job under a PFI contract.
In a prior information notice published on the Official Journal website the trust said: "Sandwell & West Birmingham Hospitals NHS Trust wishes to explore with experienced acute hospital construction contractors whether there is a possibility of completing the construction of The Midland Metropolitan Hospital through a new PF2 contract."
Interested firms need to contact the trust as soon as possible and will be required to sign a confidentiality agreement in order to get more information regarding the project.
The package of works for the interim contractor is worth £13m and would involve "various protective and dilapidation works designed to protect the site as far as possible until a replacement construction contractor is appointed". An invitation for contractors to express interest is due to be published by the end of summer.
In April chief executive Toby Lewis estimated the hospital would by completed in 2022, two years late, and anticipated completion would cost between £100m and £125m more than had originally been anticipated.
Last month the European Investment Bank, which (EIB) was part of a consortium of five banks that loaned the NHS trust £107m to pay for the construction work, confirmed it had terminated the financing deal.
The change of approach to getting the stalled hospital restarted is not Skanska's only woe in the health sector, with the handover of the firm's £165m Papworth hospital job delayed after it was found that insulation fitted to the building did not meet contractual specifications.
The new Royal Papworth Hospital (pictured) was due to be handed over this month, but is now expected to be delayed by several months.
The Royal Papworth Hospital NHS Trust said: "The hospital's construction partner, Skanska, was due to hand over the building to the trust in July. This would allow the trust two months to train staff and complete its equipping programme before opening the new building to patients in September.
"In recent weeks, both Skanska and an independent tester have been checking the building to ensure it meets the specifications set out in the original contract.
"During this period, Skanska informed the trust that they have used insulation materials that do not meet our original requirements in the lower part of the hospital building."
The trust said Royal Papworth Hospital's board of directors had taken the decision not to accept handover of the building "until Skanska has completed remedial work in accordance with the trust's original requirements. This will cause a delay to the opening of the hospital."