The job is now running 18 months behind schedule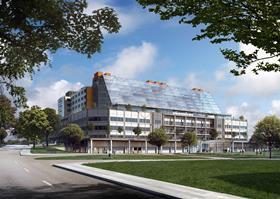 Skanska has been lined up to take over Carillion's Midland Metropolitan Hospital job in Smethwick, which is set to be at least £100m over budget.
Speaking to Sky News, Toby Lewis, the chief executive of the Sandwell and West Birmingham NHS Trust, confirmed the Swedish-based firm was the trust's preferred bidder to takeover the project.
Work on the site has been on hold since Carillion went bust in January.
Lewis said: "Our absolute target is to open in 2020 and that is 18 months later than we'd hoped."
He said the government needed to give the the plan the seal of approval, but the three departments involved have yet to make a decision.
Lewis said: "I think our time now is for a decision and bluntly we can use the summer sunshine to get building.
"We are expecting it will cost about £100m to £125m more to finish this hospital than had originally been anticipated."
The new hospital will house Europe's biggest emergency department.
Work has not yet restarted on the failed contractor's other problem hospital job in Liverpool.
The Hospital Company, which is managing the £335m Royal Liverpool Hospital's delivery, is yet to appoint a replacement contractor to complete the job.