Move puts 70 jobs under threat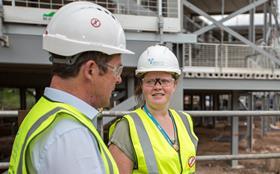 Interserve is expected to spell out more details of its ongoing restructuring when it puts out its end of year results next month and which today saw it shut the doors on its 90 year old power business.
A spokesperson for the firm said the its 2017 results were expected to be announced in the final week of March – a month later than recent years – with chief executive Debbie White set to detail how a company rejig, called Fit for Growth, is bedding in.
As part of this, the firm said it was pulling the plug on its power business which carries out work such as cable laying and looking after overhead lines for a range of clients including National Grid, Scottish Power and Siemens.
The move is expected to see over 70 staff axed or be redeployed within the wider group.
An Interserve spokesperson said: "We are undergoing an operational restructure within our industrial division. After careful consideration we have decided to close down our power business, as we look to consolidate and centralise our industrial portfolio.
"We are committed to completing all contracted works and anticipate the majority of projects will be complete by the end of June, 2018. All employees affected have been informed of the decision, with a consultation period running until early April. We are working internally to ensure as many people are redeployed within the business."
In a trading update last month, Interserve revealed its net debt for 2017 would hit £513m and is only likely to grow further over the coming months.
The firm said the year-end figure reflected the "significant outflow in the year relating to energy from waste, a normalisation of trading terms with our supply chain and exceptional costs".
Last year, the firm revealed that the cost of exiting energy from waste contracts will be close to £200m, having risen several times over the previous months.
Interserve was also caught up in invester jitters earlier this month following Carillion's collapse last month and a profit warning from Capita two weeks later which saw its share price tank 20%.
Its year end results are expected to be unveiled the week beginning 26 March.