Investors back £1bn limit as contractor prepares to announces annual results next Monday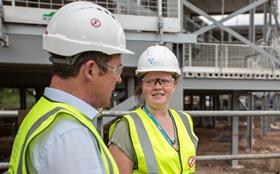 Interserve shareholders have given the thumbs up to the firm increasing its borrowing limits to up to £1bn as it prepares to announce its much-anticipated annual results next Monday.
The contractor held a general meeting in London today where 99.65% of shares – 53.9 million – voted through a resolution to sanction the increase.
And 99.56% – 53.8 million shares – gave the green light to ratifying any prior breach of the borrowing limit.
In March Interserve announced it had secured a near-£300m rescue package from its banks and earlier this month revealed it would seek shareholder approval for the increase in borrowing at today's meeting.
Market watchers – and the firm's shareholders – are keenly awaiting its long-awaited 2017 results, due out on Monday.
It has previously said net debt at year-end 2017 is expected to be approximately £513m, compared with average net debt of £391m in 2016.
In 2016 Interserve reported a loss of £94.1m on turnover of £3.2bn. At the time it posted an exceptional charge of £160m relating to delays and performance issues on Energy from Waste contracts.
More write-downs are anticipated on that business, possibly as high as £200m, when the group publishes it results next week.