Shareholders asked to OK borrowing limit extension as firm highlights write-downs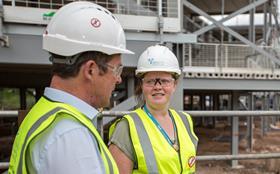 Interserve is to seek shareholder approval at a general meeting in two weeks' time to raise its borrowing limits in anticipation of what the contractor called "significant balance sheet write-downs" in its 2017 accounts.
In a statement the firm said the write-downs were expected to comprise an impairment on goodwill and a number of other non-underlying items. Getting out of the energy-from-waste market had been expected to cost the business around £200m.
Interserve was due to have published its financial results for 2017 before Easter, but has now delayed them until after a general meeting, to be held on Friday 27 April, agrees the borrowing limit deal.
Its accounts for the year to 31 December 2017 are now expected to be published on 30 April.
Last month Interserve announced it had agreed a near £300m rescue deal with its banks, while it said today that two investors, who hold 35% of the group's shares, had indicated their support for the borrowing limit increase.
Anticipated net debt at year-end 2017 is expected to be approximately £513m, compared with average net debt of £390.9m in 2016.
Interserve said talks with its lenders and other financial stakeholders had "continued to progress well, with agreement in principle on major commercial terms of the group's proposed refinancing now reached.
"These commercial terms remain subject to credit approval from all providers before the new facilities are finalised. With the addition of the new facilities the group will have cash borrowing facilities of £834m."