Firm had been due to unveil numbers yesterday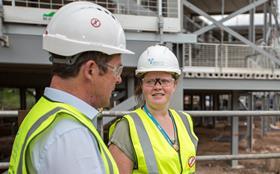 Interserve is set to unveil its 2017 results towards the end of next month after it agreed a near £300m rescue deal with its banks last week.
The firm had been due to publish its results yesterday but it is now understood these will be published in the second half of April.
It is expected to unveil more details of a restructuring initiative called Fit for Growth, introduced last autumn by chief executive Debbie White.
It will also give an update on how much it is spending getting out of the energy-from-waste market which it has previously said is costing it close to £200m.
One of its problem contracts is a scheme in Glasgow with the firm being blasted its client, Viridor, 18 months ago after it claimed Interserve had "repeatedly failed" to meet its delivery milestones.
On Monday, Viridor's parent Pennon said the cost of building the scheme has gone up by £95m to £250m.
It added: "Viridor is contractually entitled to recover incremental costs from the original principal contractor, Interserve, under certain circumstances. Discussions with Interserve are ongoing with regard to the contractual settlement."
It said the scheme, known as the Glasgow Energy Recovery Facility, was in final commissioning.
Interserve, which was replaced on the job by Doosan Babcock, declined to comment.