The new partnership will push forward with the development of 245 Hammersmith Road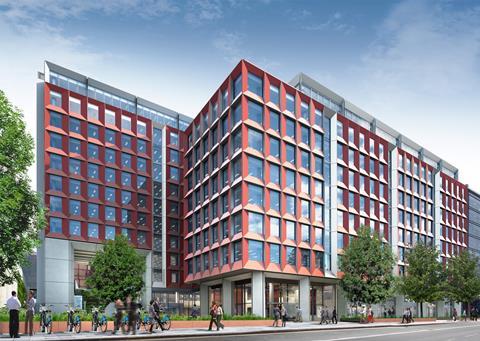 Legal & General Property has sold half of its £275m office scheme in West London to Mitsubishi Estate London.
The new joint venture will speculatively develop the 250,000 sq ft office scheme at 245 Hammersmith Road and a new urban park and plaza.
Designed by Sheppard Robson the 12-storey building already has planning consent from Hammersmith & Fulham Council and construction is due to start next month with completion expected in the first quarter of 2019.
It is the third time Mitsubishi Estate London – a wholly owned subsidiary of Japan's Mitsubishi Estate - and Legal & General Property have teamed up to develop property. The two previously delivered Central Saint Giles together, while it is Mitsubishi Estate's fifth development in the UK, including the recently completed 8 Finsbury Circus.
Simon Wilkes, head of Business Space Development at Legal & General Property, said: "There is still a lack of Grade A development taking place which means we are set to benefit from rental growth. We are already seeing high levels of interest from blue chip occupiers, who are particularly drawn to the design and location of the scheme, especially given the competitive nature of the rents compared to the West End.
Yuichiro Shioda, managing director & chief executive of Mitsubishi Estate London Ltd, said: "This latest deal further cements Mitsubishi's commitment to an ever expanding London and to flagship office development. We take pride in meeting occupiers' needs and creating a better local environment for communities".
CBRE and Nabarro advised Mitsubishi Estate London. Eversheds advised L&G.