Nick Clare, former Aecom commercial sector director, attracted by JLL's 'ambitious growth plan'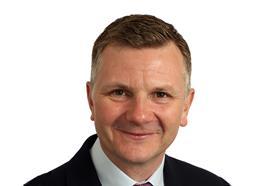 JLL has poached senior Aecom commercial sector director Nick Clare to head its expanding UK project management team.
Clare (pictured) told Building he was attracted to JLL by its "ambitious growth plan" for its construction consultancy business, and he expects to double the size of JLL's UK project management team from the current 50-60 project managers to around 100 "within two years".
Clare joined Davis Langdon in 2003, which was acquired by consultant Aecom in 2010. He spent four years in Dubai leading Davis Langdon's Middle East project management business before moving back to London in 2013 to take up a senior role in Aecom's UK-based commercial team.
Clare said: "JLL has a fantastic platform of project managers predominantly working in the occupier space, with some development work. Clearly there's the [potential] expansion there, I would suggest, to double that within two years - to be 100 project managers with an equal balance between occupier and developer work, that's the intention I've got."
He added: "The strategy is that we've got the platform in terms of a very strong base in occupier work and corporate, so let's take that base and move it into the world of developers."
Guy Grainger, UK chief executive of JLL, said: "We see enormous potential within our project management team. Nick's […] track record and strength within the investor and developer fields are fundamental to realising this growth."
Clare is the latest senior figure to announce they are leaving Aecom over the past month, with Peter Williams moving to Laing O'Rourke and Jon Dedman to Gleeds.
An Aecom spokesperson said: "Nick has left Aecom to pursue opportunities at JLL and we wish him every success.
"Our PCC business in London is being led by a number of our directors in our business across key markets, including leading experts such as Jo Streeten who leads project management."