More than 1,200 people working on station scheme which now faces indefinite period of being mothballed
The HS2 station at Euston is now not expected to open until 2035 as the industry counts the cost of last week's decision by the government to slow work down on the scheme in the face of soaring budgets.
The site will be mothballed in the coming weeks and manned by just a skeleton staff of security personnel once current preparatory work is finished.
Firms working on Euston have already begun to look at paring back costs with reports surfacing yesterday that an internal government document flagged concerns about job losses among the 1,200-plus staff working on the scheme ahead of last Thursday's announcement.
The main contractor on the station, Mace/Dragados, has around 360 people working on the job while a design team, which includes Grimshaw, Arup and WSP, has a further 600 staff with around 300 operatives on site.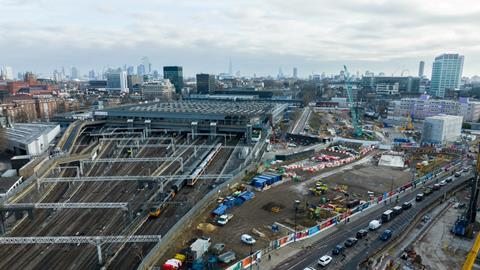 Teams are expected to be demobilised with firms moving staff to other parts of the job where they can, or different schemes entirely.
But one source said redundancies were inevitable and added: "There will be a lot of nervous and apprehensive people. If you work for a multi-national you've probably got something to go to but if you're part of a small SME you might find yourself out of a job."
Grimshaw said it had started a consultation process on redundancies while Arup said it would look to redeploy staff elsewhere. In a statement, WSP said: "We're working closely with our client to consider any impact of last week's announcement on project resourcing."
When firms were first asked to bid the scheme six years ago, the station was expected to open in 2026.
"It's quite depressing, really," the source admitted. "We'll all be retired by the time it's done. 2035 is a realistic or optimistic date for Euston depending on where you stand. There is disappointment and frustration. It's a blip but it will go ahead, we've just got to come up with a solution to make it go ahead."
Building understands the cost of the station has gone up by a third and is now closer to £4bn with officials at the Treasury wanting to see this brought back closer to the original budget.
Last week's decision to prioritise construction work at Old Oak Common was coupled with an announcement that work on the line north of Birmingham had been delayed by a couple of years.
The source said: "By delaying the northern leg, they've bought themselves more time with Euston. They will want to get the cost [of Euston] down but it's a slowdown in spending so I don't know what it will save in the long run. In the meantime, you're in danger of losing all that knowledge you've built up."
The source added that regeneration plans for the site would now be "pushed further into the future" and added that Old Oak was not a long-term solution to connect the capital with the Midlands and the North.
"Most people in Manchester and Birmingham don't have a problem with Euston. What they don't want to be doing is stopping at a bizarre place in London [Old Oak Common]. They want to go to recognisable place."
>>See also: 'Just get on and build the thing.' John Armitt goes in to bat for HS2
A Costain team is digging the tunnel that will take the line into Old Oak Common from near the M25 at West Ruislip with a tunnel then running from that station into Euston.
Its chief executive Alex Vaughan told Building he expected the line to eventually end up at its original terminus. "The whole purpose of HS2 is to unlock the connectivity from Manchester and the Midlands with Euston and central London."
Costain and Skanska completed enabling works at the Euston site last year and Vaughan said: "The government has to look at spending priorities. Not everyone is in favour of certain infrastructure projects but they will drive a greener future and economic growth."
The chief executive of ground engineer Keller, which is carrying out around £250m worth of work on HS2, told Building it would be "senseless" not to go into Euston.
"It wouldn't make any sense at all," added Michael Speakman. "Not going to Euston is like stopping the Elizabeth Line halfway through London."
Transport secretary Mark Harper said services between Old Oak Common and Birmingham Curzon Street, expected to be up and running by the early 2030s, will be prioritised by government, with the construction of Phase 2a between Birmingham and Crewe set for a two-year delay.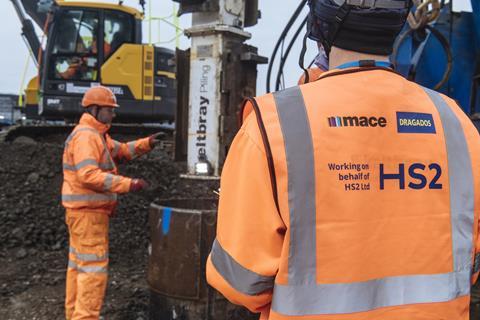 But Old Oak Common only has six platforms and a source said if Euston was delayed for longer than envisaged, the station would quickly face capacity problems. "At the moment, there aren't enough platforms at the London end. Euston has to open to deal with capacity issues."
Harper said the government remained committed to running HS2 services into Euston but added it would "address affordability pressures to ensure the overall spending profile is manageable. We will therefore take the time to ensure we have an affordable and deliverable station design."
But the chairman of the National Infrastructure Commission John Armitt told Building the government should have held its nerve and pressed on with building HS2 as quickly as possible.
"Having decided to build it, we should get on and build it. The cheapest way is to build it as quickly as possible. The more you spin it out, the more you've got future inflation. It creates more uncertainty.
"HS2 has the opportunity to make an enormous contribution to transport in this country and we should now just get on and do it as effectively, efficiently and quickly as we possibly can."
Lawyers have also warned that delays to the scheme could end up going on for longer than initially expected – and raise the risk of parts of it being shelved completely.
Addleshaw Goddard partner Francis Tyrrell said: "The delay means that much of the already submitted impact assessments will have to be updated. Updating all that information may trigger a requirement to reconsult.
"But, more importantly, [the delay] may call into question the underlying business case for the infrastructure and the benefit-cost ratio, given that the construction costs are only likely to increase over time."
He also questioned whether "it is legitimate to have powers of compulsory purchase hanging over property for protracted periods of time where there is no intention to implement them in the short term".
Harper blamed "headwinds" stemming from Russia's invasion of Ukraine and post-covid supply chain disruption for the delay with reported costs of the project now said to be £71bn.