Bristol wine warehouse case results in reduced profit at engineering firm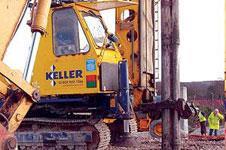 Ground engineering giant Keller has posted a 46% drop in pre-tax profit to £28.2m for 2014, after an exceptional charge of £54m to settle a legal dispute over a 2008 contract.
In July last year, Keller said it would make an exceptional charge of £30m to cover the cost of the problem contract, thought to involve cracks in the floor of a wine warehouse near Bristol. Last month it said it would put aside a further £20-30m to pay for the dispute.

In its full-year 2014 results today, Keller said the final cost of the dispute would be "subject to a number of remedial and other actions to be undertaken as part of the settlement agreement" and that the £54m was management's "best estimate" of the net cost to Keller before taking account of future recoveries under applicable insurances.

The 2014 pre-tax profit of £28.2m is down from a £52m pre-tax profit the previous year.
However, with exceptional costs including the warehouse contract loss stripped out of the results, Keller said it achieved a 15% rise in pre-tax profit to £85.1m, up from £74.1m the previous year.
Revenue increased by 11% to £1.6bn, up from £1.4bn.

Chief executive Justin Atkinson said the results demonstrated the "continued strength" of the company's business model.

"Our breadth of geographies and capabilities puts us in a good position to pursue future growth which, coupled with strong risk management and ongoing self-help measures, positions us well for the future," he said.

"Whilst conditions in our main markets remain mixed, the gradual upturn in the US, our largest market, the continuing improvements in our operating performance and our strong order book mean that the group is set for another year of good progress in 2015."