Stanhope behind string of high-profile jobs in capital
Stanhope is understood to be looking at restarting work on several of its jobs in the capital after they were shut down last month.
Mace returned last week to its scheme at Gresham Street in the shadow of St Paul's Cathedral, one of the 20 sites the firm has managed to get up and running after shutting sites for a couple of weeks.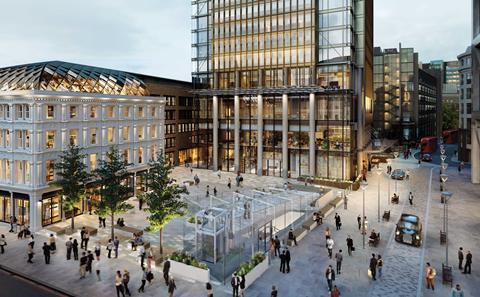 The firm has been carrying out logistics and security work at the nine-storey scheme which has been designed by Wilkinson Eyre.
But the number of workers on the job is down into double figures from the normal 200-300 people working on it.
Stanhope is also looking at how to get work back up and running at two tower schemes being built by Lendlease in the heart of the Square Mile – One Bishopsgate Plaza and 6-8 Bishopsgate.
Designed by PLP, the 43-storey One Bishopsgate Plaza, which includes a five-star hotel and 160 apartments, is due to finish later this year and had around 700 workers on the job before the pandemic struck.
Among the initiatives being looked at are adding more lifts onto the job and working with a reduced workforce.
Keltbray was forced to stand down around 80 of its workers on the Wilkinson Eyre-designed 6-8 Bishopsgate office job last month where it has been carrying out substructure work.
Stanhope is looking at getting the job, which will run up to 50 storeys, restarted next week and has been speaking to Keltbray over how to ensure the 2m social distancing protocols are followed. Last week, Keltbray furloughed more than 750 staff after work on 20 of its jobs ground to a halt.
Meanwhile, Multiplex is understood to be looking at restarting work on its phase of Qatari Diar's residential scheme at Chelsea Barracks along with another residential scheme, the Broadway development on the site of the former Metropolitan Police headquarters in Westminster for developer Northacre.
Multiplex decided to close down its sites on the evening Boris Johnson said he was putting the UK into lockdown more than three weeks ago.