Sir Terry Morgan due to face London Assembly transport committee next week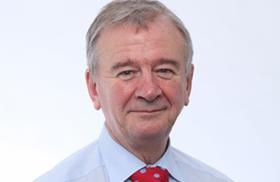 Sadiq Khan has accused former Crossrail chairman Sir Terry Morgan of "misremembering" the truth about when he informed the London mayor of significant delays to the rail scheme.
Morgan (pictured), who was chairman of Crossrail before being pushed last month, has been asked to sit before the London Assembly's transport committee next week – but has yet to confirm his attendance.
In an interview with LBC Morgan repeatedly stated that Khan was told of the scheme's delay on 26 July.
But four days before Christmas, Khan repeated his claim to have only found out about the delays hours before they became public on 30 August.
Khan, who is chair of Transport for London, told last month's hearing of the Assembly' transport committee: "[Morgan] has said a number of things which are simply untrue. I'm going to be generous and attribute it to him misremembering."
Khan said he had had concerns about the schedule for Crossrail but until August had been repeatedly assured the Elizabeth line would open on time in December.
He also said that the governance structure of Crossrail meant he had little power to investigate or act beyond accepting the assurances.
Labour assembly member Navin Shah said: "We certainly need to take this forward with Terry Morgan."
And Caroline Pidgeon, Lib-Dem chair of the transport committee, said: "We will hear from Terry Morgan himself in January." She told Khan: "One or both of you are not giving a full account of what happened."
She added: "Sir Terry says he informed the Mayor and TfL [about the delay] in July. The Mayor suggested he must have 'misremembered' events. We will put that suggestion to Sir Terry [next week]. Someone between these two parties is not giving a full account and we will stop at nothing to get to the bottom of this."
Morgan, who also lost his post last month as chair of HS2 in the Crossrail fallout, is due to appear before the committee next Wednesday.