Mayor of London says scheme's executives have not been transparent as NAO investigation looms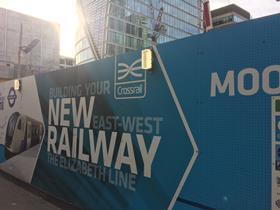 Mayor of London Sadiq Khan has suggested Crossrail executives either misled him or failed to anticipate delays and further cost overruns.
In a letter to the National Audit Office (NAO), seen by Building, Khan said he believed a £300m sum handed over to Crossrail in July would ensure the Elizabeth line was opened in December 2018 as planned.
Khan said: "[The Department for Transport and I] received repeated assurances from the chair and senior Crossrail Ltd executives that […] additional funding would ensure the opening of the railway on time".
"While I agreed £300m additional funding with the government on that basis, we now know that the scale of the issues faced was in fact much greater".
In August Crossrail announced it was running at least nine months behind schedule, while last month the it was given another £300m of funding – along with a £350m loan.
Khan goes on to state: "I continue to have significant concerns over transparency on the project and the effectiveness of Crossrail's governance, strategic risk management, commercial arrangements and assurance regime."
He adds that both Transport for London and the Department for Transport, who co-sponsor Crossrail, strengthened their representation on Crossrail's board in July.
Khan's letter follows a call by the head of the Public Accounts Committee, Labour MP Meg Hillier, for an inquiry led by the NAO into the source of Crossrail's delays and cost overruns.
The NAO has yet to formally decide on whether it will look into Crossrail – although it is widely expected to announce an investigation in the coming week. Khan said he has instructed Transport for London to assist with a NAO inquiry.
An investigation into Crossrail by auditor KMPG, comissioned by Khan, is also due to report its findings in coming months.