Transport minister Andrew Jones says it is "becoming clearer how the mayor's policies are causing long-term problems with TfL's finances"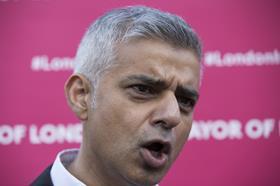 Transport minister Andrew Jones has blamed London mayor Sadiq Khan for the government having to pump extra money into the late-running Crossrail project.
Jones told parliament that Khan (pictured) was responsible for the precarious position TfL is in as it races to complete Crossrail.
Questioned by fellow Tory MP Alex Burghart, whose constituency Brentwood and Ongar will be home to two Crossrail stations, Jones said the government was working with TfL to ensure the £16bn scheme was successfully delivered.
Speaking in the House of Commons late last week, Jones said: "TfL's finances are a matter for the mayor of London and Crossrail is a 100%-owned subsidiary of TfL.
"It is becoming clearer how the mayor's policies are causing long-term problems with TfL's finances but the government will continue to work with TfL as joint sponsors to oversee Crossrail's delivery of the new railway as soon as possible."
In October, the government said it was pumping £350m into Crossrail to keep the project on track after it was revealed in August the scheme was likely to be delayed by up to a year.
Earlier this month documents from the London Assembly revealed TfL can't borrow any more cash without breaching its operational limit and that the £650m of additional cost that had been agreed so far was only enough to keep the project going until the end of March 2019.
The assembly's budget and performance committee said: "The mayor set TfL's operational borrowing limit at £11.3bn for 2018-19, and even before delay there was only £93m of wriggle room left.
"TfL is now going to use all of its authorised borrowing in 2018-19, the full £11.3bn. This is why the £350m loan from the Department for Transport is being given to the GLA, who will then pass it on to TfL as grant. It would appear the mayor is having to be creative to avoid legal borrowing limits."
Jones told MPs that Khan was having "extensive" conversations with transport secretary Chris Grayling about the escalating cost of Crossrail.