Number drops more than £200m at firm linked with Tilbury Douglas buy
Kier said its average month-end net debt has gone down and its order book gone up, in a trading update this morning ahead of its interim results.
The firm, which was this week linked with a move to buy Tilbury Douglas for up to £50m, said debt had reduced from £436m to below £200m thanks to the sale of its Kier Living housing arm and equity raise last year as well as ongoing cost savings.
In a note, broker Numis said it expected average net debt for the full year to be £190m, up from a previous estimate of £175m.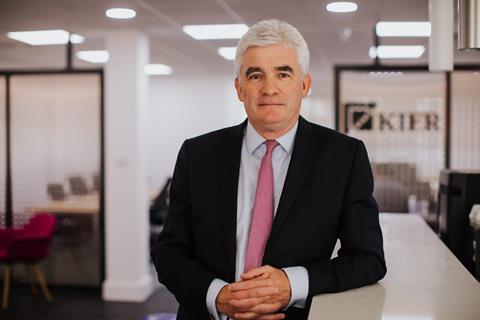 Its order book at the end of December was around £8bn, up from the £7.7bn it posted at its year-end in June last year, with schemes including work to upgrade the A66 in northern England and a spot on the government's education framework.
It added that trading in the first half was in line with expectations despite increased costs while Numis said the firm had flagged slower decision-making at local authority level caused by more council staff working from home because of covid restrictions.
> Also read: New phase begins at Kier as confident Davies looks to future after travails of past
Chief executive Andrew Davies said: "The performance of the group over the last six months reflects our significantly enhanced resilience and strengthened financial position. The first half of the year has started well and we continue to trade in line with our expectations. The increased order book gives us the confidence in the achievement of our medium-term value creation plan."
Davies has said he wants turnover in the medium-term to be up to £4.5bn with operating profit margins of around 3.5% as well as the resumption of dividend payments.
In its statement this morning, the firm made no mention of speculation it is on the verge of buying £485m turnover Tilbury Douglas which has a strong presence in health and education work.
Kier is due to release its interim results on 9 March.