The contractor has picked up the £25m contract for the two-phase restoration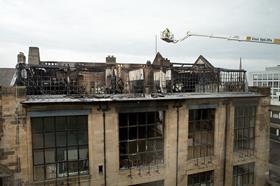 Kier has been appointed as the main contractor for the restoration of the fire-ravaged Mackintosh Building by the Glasgow School of Art (GSA).
The £25m contract will see Kier start work in July on the first phase of the work which will see the external envelope created to make the building wind and watertight.
Work on the stonework of the library elevation will also start immediately and the first phase will also see the roofs over the east and west wings will be replaced.
The main works to restore the west wing and upgrade the east wing interiors will commence in spring 2017.
Kier is to work in partnership with the GSA to appoint and manage teams of craft specialists who will replace and restore aspects of the building such as the stained glass, lighting based on original designs and the unique pulse mechanisms of Mackintosh's slave and studio clocks.
Liz Davidson the Mackintosh Restoration senior project manager commented that all the bids from the contractors shortlisted - Balfour Beatty, John Graham, Kier and Sir Robert McAlpine - had been competitive.
She said: "The final assessment was made on the basis of a 60:40 Quality:Cost appraisal and the wining tenderer therefore had to strike a fine balance between offering good value and exceptional quality."
Brian McQuade, managing director, Kier Construction Scotland said it was an honour to be appointed on the "culturally significant project".
Gardiner & Theobald is acting as cost and project manager and Page/Park is the architect on the restoration of a building that is regarded as one of the finest examples of art nouveau architecture in the world and a masterpiece of Scottish architect Charles Rennie Mackintosh.
In May 2014 the Mackintosh building suffered severe damage in a fire, with the library and around 10% of the structure completely destroyed.