Firm on course to correct net debt position in matter of years, says chief
Kier shareholders will receive their first dividend in five years next March when the contractor announces details of the payment in its interim results.
It will be the first such payment chief executive Andrew Davies has overseen since he arrived at the firm in April 2019, a year after he was supposed to start work as Carillion's chief executive before that firm collapsed at the beginning of 2018.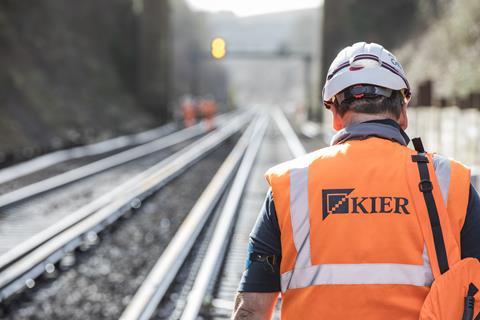 In its 2023 annual results, Kier said the dividend payment was part of a medium-term business plan which includes growing revenue to between £4bn and £4.5bn. Davies said: "We've worked incredibly hard to get to where we are."
The firm's average month end net debt for the year to June was £232m but Davies said he "could see a line of sight where we get to an average net cash position".
He declined to put a timetable on this, but it is expected to be within the next couple of years.
At its height, average month-end net debt was £432m in 2021 with the firm also hobbled by covid loan and KEPS repayments which swelled the figure to £582m.
The annual results showed growth in revenue and profit, with the former up 7.5% to £3.4bn.
Statutory pre-tax profit in the year to 30 June 2023 hit £51.9m, up from the £15.9m recorded the year prior – however, the firm's adjusted figures showed significantly lower pre-tax profit growth.
Earlier this month, Kier kicked off the break-up of collapsed contractor Buckingham by picking up its rail division, which includes its jobs for Network Rail and HS2, for £9.6m.
Davies said the rail business was the only part of Buckingham – which is better known as a stadium builder – that the firm had been interested in.
The deal came with 15 live projects and is forecast to add between £50m and £75m additional revenue to Kier's transport arm.
>> Kier's Andrew Davies: 'Don't bleat, just fix your own problems'
Transport schemes have been particularly affected by the high inflation of the past years, with major jobs such as HS2 experiencing cuts to their scope.
But Davies said such moves, which include the mothballing of the new Euston station site in north London, have not affected Kier.
"HS2 are always looking to optimise the programme," he said. "Mothballing [Euston] has had no impact."
He added that the firm's pipeline of work remained strong and that clients were now much more realistic about costs than they were a year ago.
"Clients are working to a very realistic cost estimate now," he said. "It's more straightforward than a year ago. We're not getting to a two-stage tender with unrealistic cost estimates."
Davies said inflation was "still an issue" but that it was "managed better" and that inflationary pressure in the system was "nothing like it was 18 months ago".
Back then, he said, "the pace of inflationary pressures meant costs were out of date" when it came to concluding deals, resulting in jobs getting delayed.