Strategic review delays final decision on move to invest over £100m in modular housing plant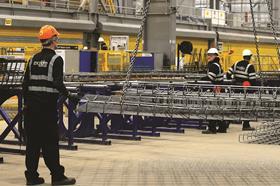 Laing O'Rourke has admitted that it has still not signed off its plans to build a second factory specialising in off-site construction.
The firm said last year that it would pump more than £100m into a new factory next to its existing one at Steetley in Derbyshire to manufacture homes.
But the contractor said this week the expected cost of the scheme – which is believed to be around £150m - was still "subject to a final investment decision".
The new Design for Manufacture and Assembly factory has been hailed by the firm as a plant that will "use intelligent design, precision engineering and fully automated processes to deliver modular solutions that will revolutionise housebuilding in the UK".
It has been drawn up with housing in mind and the sector's importance to Laing O'Rourke was underlined in a statement released to Building where it said its UK business was "well placed for strong growth potential, fuelled by the government's renewed focus on infrastructure and new housing".
The plant is also key to the firm's stated intention to focus on modern construction methods which recently saw it re-jig the business into two divisions - with its off-site business, known as Explore Manufacturing, coming under its Asset Businesses division which is headed by managing director Stephen Harley.
But Laing O'Rourke told Building that "all investment decisions have been reviewed" as part of a strategic review which it completed earlier this year.
It added: "Laing O'Rourke is committed to an advanced manufacturing agenda at the heart of its current and future business strategy. The Group has invested significantly in its Explore Industrial Park and planning for a new Advanced Manufacturing Facility continues to progress, subject to a final investment decision."
The firm said the strategic review had been "partially triggered" by a number of approaches for its Australian business which has now been put up for sale.
Chief executive Ray O'Rourke said proceeds from the disposal - with the firm declining to confirm reports the business will fetch close to £400m - will be ploughed back into the business "and enable us to progress our Advanced Manufacturing agenda".
The decision to sell the £1.5bn turnover Australian arm brings to an end to a dozen years working in the country and the Pacific Rim.
The division was set up in 2004 but expanded rapidly three years later after Laing O'Rourke snapped up Barclay Mowlem from Carillion - after the latter decided to pull out of the region following its takeover of Mowlem the year before.