Contractor's Cheesegrater tower and Francis Crick Institute will face demonstations during nation-wide protest this Wednesday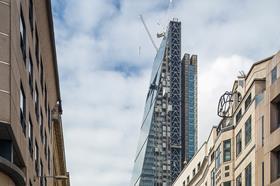 Laing O'Rourke's most prominent construction projects are to be a major focus of protest during this week's national TUC 'Day of Action' on blacklisting.
The event, to be held this Wednesday, will include protests around the country in cities including Glasgow, Edinburgh, Cardiff, Liverpool, Manchester, Birmingham, Leeds, Newcastle, Lincoln and Southampton.
However, the largest demonstration is expected to be at the site of the Cheesegrater tower in the City of London, being built by Laing O'Rourke, during an early morning demonstration.
The contractor's Francis Crick Medical Research Centre in King's Cross is also a target later in the day.
Laing O'Rourke is one of the eight main contractors facing a High Court claim from around 80 blacklisted workers and is now part of the industry's new compensation scheme.
In addition, it has been criticised by unions in recent days for refusing to allow union officials access to its construction schemes including the Francis Crick site, something that Laing O'Rourke today denied.
A Laing O'Rourke spokesperson said: "Laing O'Rourke fully supports and complies with industry-wide guidelines concerning access for union officials. No unions are banned from access."