Lendlease and Multiplex are among firms working on projects in the Australian city, which is severely limiting numbers of workers on site
Construction firms working in Melbourne are set to take a massive financial hit as Australia's second-largest city is once again plunged into tough new covid-19 restrictions.
Firms working in the city include Lendlease and Multiplex, which are working on projects including the city's $11bn (£5.8bn) Metro Tunnel and the $500m (£265m) 308 Exhibition Street – one of the largest tower projects currently under way in Australia.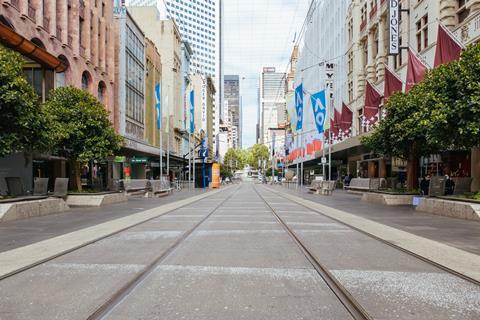 This week, Melbourne – which has repeatedly faced some of the toughest lockdown restrictions in the world – was thrown back into harsher restrictions, with the Victorian state government confirming that new rules limiting the number of people working on a project will be in place until at least 2 September.
Measures include residents not being allowed out of their homes between 9pm and 5am and nearly all retail shops being closed.
The Master Builders Association of Victoria (MBV) has warned the restrictions, which will see major building jobs limited to 25% of their usual workforce on site and smaller projects capped at just five people on the job at a time, will cost both the industry and public purse a fortune.
> From the vault: Watch out UK. This is what a lockdown looks like second time around in Melbourne
Rebecca Casson, chief executive of MBV, said construction is critical to the state's economy, supporting more than 300,000 jobs and accounting for more than 46% of tax revenue.
Casson said: "Every day that our industry is locked down, that's $455m (£240m) in lost revenue plus $63m (£33m) in lost wages.
"We know that the recent circuit-breaker lockdowns have been especially challenging for many of our smaller members not permitted to work – that's why we have been fighting so hard on their behalf."
Firms flagged concerns when similar restrictions were imposed a year ago, with a spokesperson for Multiplex at the time saying limitations on the industry would have an obvious business impact.
She said at the time: "These new restrictions will have a significant impact on our business, the supply chain and the workforce generally. We are currently working through the specific implications and what can be safely and sensibly achieved on site."
Lendlease, which yesterday announced its most recent results, has already warned that it expects covid to have a continued impact on its financial position during the next year.