But the Australian firm did post improved profit in its most recent results
Lendlease has warned of a challenging year to come as covid-19 and a restructuring plan cast a shadow over the firm's improved financial position.
In its results for the year to 30 June 2020, which were announced this morning Australian time, the firm posted a pre-tax profit of A$222m (£118m) – a significant improvement on the $310m loss (£168m) it posted last year, which was largely due to the hit it took selling its engineering business.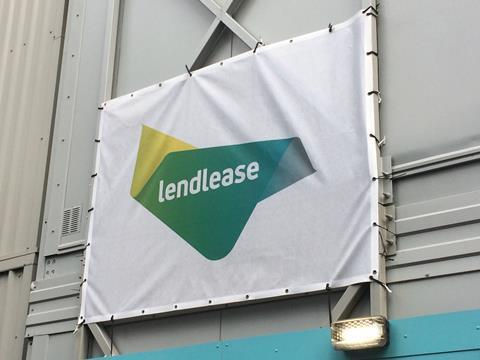 Despite the improved position chief executive Tony Lombardo, who was giving his first results update since taking the top job in June, said the firm had definitely felt the pressure of the pandemic in the past 12 months.
He said a $60m (£32m) pre-tax provision was taken following weaker rental demand and lower rents for the recently completed apartments at London's Elephant Park, while a similar $40m (£21m) hit was taken on the scheme's One Sydney Harbour scheme.
The property giant, which posted turnover of $9.9bn (£5.24bn) down from $11.8bn (£6.25bn) said construction activity was constrained by delays to the start of new projects, site shutdowns and lower productivity and that the impact of social distancing protocols across its sites was reflected in a 16% decline in revenue compared with a 9% decline in hours worked.
The firm added that it was still concerned about a tough 12 months to come, announcing plans to strip out $160m (£85m) in costs each year that will put it in a better position to respond to an upturn in the construction and development markets it is expecting in the year to 30 June 2023.
Lombardo said: "As an international real estate group we expect FY22 to be the cyclical low point for both development production and profitability.
"We are targeting to deliver solid returns across the construction and investments segments, although activity levels are likely to continue to be affected by the pandemic."
Shares in the ASX-listed firm lost 7.5% on Monday, to close at $11.64 (£6.16), after it said profit for the first half of its next financial year would take a couple of hits associated with the business changing direction.
It said it was planning for a restructuring charge associated with the revised organisational structure of between $130m (£69m) to $170m (£90m) and an impairment of between $230m (£122m) and $290m (£154m) because of extra cash it will spend on "a small number" of development projects on which it has decided to change strategy.
The review that will determine how exactly the business will be restructured is still being carried out by Lombardo.